Headlines
As reported by The Hartford Courant, May 9, 2008.
New Leader Hired for UConn Health Center
By Hilary Waldman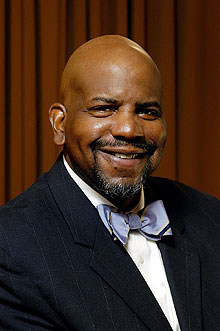 Cato T. Laurencin, M.D., Ph.D.
The University of Connecticut Thursday named an orthopedic surgeon who simultaneously earned an M.D. at Harvard and a doctorate in chemical engineering at M.I.T. to head its troubled health center in Farmington.
Dr. Cato T. Laurencin, 49, now chairman of orthopedics at the University of Virginia, will start Aug. 11 as the university's vice president for health affairs at the UConn Health Center and dean of the UConn medical school.
He will replace longtime Vice President and Dean Peter J. Deckers who will step down in August but plans to continue practicing surgical oncology and teaching at the center.
Laurencin, a native of Philadelphia, is joining a health center that includes Connecticut's state-sponsored medical and dental schools, a research laboratory and the 224-bed John Dempsey Hospital, all plagued for the last decade by financial problems.
The UConn Health Center now faces a $22 million deficit and is seeking help from the state to stay afloat while it negotiates a more permanent solution with neighboring hospitals.
A state study commission has recommended that the state close the outdated John Dempsey Hospital and replace it with a larger teaching facility that would be owned cooperatively by UConn and its rival hospitals, St. Francis Hospital and Medical Center and Hartford Hospital, both in Hartford, and the Hospital of Central Connecticut in New Britain.
In an interview Thursday evening, Laurencin said he saw great opportunities for growth at the state-run health center and was looking forward to fostering more cooperation between the Farmington medical center and UConn's main campus in Storrs.
In Virginia, Laurencin lectured on topics including nano-technology and bio-materials to students in the engineering school, in addition to running the orthopedics department at the medical school and repairing knees and shoulders in the operating room.
UConn President Michael J. Hogan said he is looking to Laurencin to build bridges between UConn's historically autonomous campuses and to promote bench-to-market research in bio-medical engineering.
"This guy is the whole package," Hogan said of Laurencin, whose salary will be $750,000. "He's got successful administrative experience, he's got a successful clinical record and a successful research record."
In addition to assuming administrative responsibilities at UConn, Laurencin said he plans to bring with him a group of grant-funded researchers to continue his work in tissue research and bioengineering.
Laurencin was born in North Philadelphia. His mother was a family doctor whose office was on the first floor of the family's three-story row house, and his father was a carpenter. With the appointment, Hogan said, Laurencin becomes one of only about a half-dozen African American medical deans in the United States.
Laurencin and his wife, Cynthia, have three children.