Headlines
As reported by The Hartford Courant, May 6, 2009.
West Simsbury's Gould Honored by UConn Health Center
By Chris DeFrancesco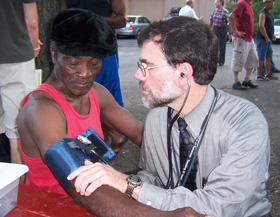 Dr. Bruce Gould examines a seasonal worker at the Thrall Tobacco Farm in Enfield in July of 2007, providing care as a physician with the Mobile Free Migrant Farm Workers Clinic. Gould, who founded the clinic in 1998, is this year's winner of the UConn Health Center Board of Directors Faculty Recognition Award. He's a professor and associate dean for primary care at the UConn School of Medicine.
Photo courtesy of UConn Health Center
The University of Connecticut Health Center Board of Directors has named Dr. Bruce E. Gould, of West Simsbury, the 2009 winner of its Faculty Recognition Award.
Gould, professor and associate dean for primary care at the UConn School of Medicine, has earned a reputation as an advocate for public health, primary care and preventative medicine. He also serves as director of the Connecticut Area Health Education Center (AHEC) Program, medical director of Hartford's Department of Health and Human Services, and medical director of the Burgdorf Health Center, a community clinic serving the underserved population in Hartford's north end in collaboration with Saint Francis Hospital and Medical Center. A primary care general internist, Gould also is the founder of and adviser to the Mobile Free Migrant Farm Workers Clinic, which has served Connecticut's migrant farm worker population since 1998.
"Dr. Gould has made a career of giving voice to the most vulnerable populations," says Dr. Bruce M. Koeppen, the UConn School of Medicine's dean for academic affairs. "He's passionate about the delivery of medical care to the underserved of today and tomorrow, through his efforts to encourage medical students to consider careers in primary care and public health, and his efforts to introduce youth from disadvantaged communities to those professions."
Gould is involved in the development and delivery of the medical school's quality improvement and patient safety curriculum and its nutrition curriculum. He helped establish UConn's Urban Service Track, a special mentorship program designed to produce doctors, dentists, nurses and pharmacists committed to serving Connecticut's urban underserved populations, and the Youth Health Services Corps, a nationally recognized recruitment program that trains and places high school students as volunteers in various health care agencies.
"Any success I've had would not be possible without the incredible people I work with at UConn, at AHEC, at the Burgdorf, at the city health department and in the community," Gould says.
Gould served on the National Advisory Council on Migrant Health for the Health Resources and Services Administration from 2000 to 2004, including as chairman in 2004. The American Medical Association honored him with its Pride in Profession Award in 2004.
Gould joined the UConn faculty in 1988.