Headlines
As reported by Hartford Magazine, October 2010.
Better Together
A groundbreaking collaboration among local hospitals aims to build the region's reputation as a center of excellence in healthcare
By Carol Latter
The top-notch healthcare facilities located in Greater Hartford have long offered patients an exceptionally high level of service - including innovative clinical care based on the hospitals' own world-class research. Employing the latest medical technology to expedite diagnosis and treatment, they have attracted patients from across the Northeast, along with the best and brightest medical staff from around the world.
Now, with approval and funding from the State of Connecticut in hand, Greater Hartford's healthcare leaders are rolling out a multi-million-dollar plan to increase collaboration among area hospitals - a move expected to raise the bar even further by improving communication, speeding research, streamlining operations, and building the region's reputation as a medical destination.
In March, Governor M. Jodi Rell addressed a standing-room-only crowd at the University of Connecticut Health Center (UCHC) in Farmington to announce a $352 million undertaking called The UConn Health Network. She said this "landmark partnership" would revamp the delivery of healthcare, generate more than $1 billion in new tax revenue, and create more than 5,000 jobs by 2020. The plan called for a mix of government funding - $227 million in redirected state bonding, $100 million from the federal coffers, and $25 million for planning and design from UConn's "21st Century Fund."
The proposal got the green light from the state legislature in May. In August, the project's leaders were "very close" to submitting an application to the federal government for $100 million, said Dr. Cato Laurencin, UCHC's vice president of Medicine, and dean of the UConn School of Medicine.
The state and the University of Connecticut intend to build the network in collaboration with Saint Francis Hospital, Hartford Hospital, Connecticut Children's Medical Center, the Hospital of Central Connecticut and a number of other local healthcare facilities and providers.
A major thrust of the plan is the construction of a new 160- to 165-bed patient tower, costing approximately $236 million, at UConn's John Dempsey Hospital in Farmington. The project will also include renovation of older space, including a $96 million upgrade of UCHC's academic and research facilities.
Another $20 million will be earmarked for additional development at UCHC and the other healthcare partners in a network connecting the region's major hospitals and other healthcare facilities, (See chart, below.)
"This partnership will result in a state-of-the-art John Dempsey Hospital and a health network with incredible reach throughout Connecticut," said Gov. Rell. "Together, we will help lift the UConn schools of medicine into the top tier of academics and research, and create thousands of healthcare jobs."
The area's hospitals already work cooperatively in a number of areas. For example, Hartford Hospital and UCHC jointly offer neurology and emergency medicine programs, UConn's family medicine department is located at Saint Francis, and its pediatrics department is based at CCMC.
On the educational side, hundreds of physicians based at the region's various hospitals and in private practice join UConn Medical School's core faculty to "collectively create a great learning environment" for medical students and residents - who in turn undertake their residencies and do rotations at the other hospitals, as well as at John Dempsey.
Another important joint initiative is the Connecticut Institute for Clinical and Translational Science. Launched in September 2009, CICATS was designed "to transform the way biomedical science is conceived, conducted and disseminated in Connecticut." Addressing health-related issues that run the gamut from aging to trauma to sickle cell anemia, CICATS "transcends the traditional boundaries of individual organizations and organizes [UConn] and its partners into a single functional research consortium."
Said Dr. Laurencin, "These are physicians or scientists who are working for the first time across the entire region, under the banner of ClCATS, on important questions for our region and nation." Translational research, he explained, is geared to moving medical discoveries as quickly as possible "from the bench to the bedside" - in other words, finding ways to translate research to clinical and community settings, to directly benefit patients.
Five months after Gov. Rell signed the new medical alliance into law, The UConn Health Network "is working," he said, "It is a network that is real and viable, and making a difference already."
Features of the Network

Regional Neonatal Intensive Care Unit
The regional NICU unit will be located at UConn Health Center, with operations managed by Connecticut Children's Medical Center. Patients will be treated by UConn physicians and staff.
Nationally Recognized Cancer Center
A joint goal is to achieve National Institutes of Health designation as a Comprehensive Cancer Center. If approved, it would be the second in the state outside of Yale.
High-Tech Regional Simulation Center
Located at Hartford Hospital, this center will train up to 2,000 medical practitioners each year by using the newest technology and equipment in simulated but true-to-life care settings.
Regional Primary Care Institute
Located at Saint Francis Hospital, it will develop new models of chronic disease management and primary care delivery and education. It will also address the national shortage of primary care providers in Connecticut.
Regional Health Disparities Institute
This joint endeavor will promote enhance healthcare research, training, and delivery to minority communities, to address the disparities experienced by those unable to access adequate healthcare.
Institute for Clinical Translational Science
This joint super-site promotes the regional collaboration of physicians and scientists, in an effort to speed clinical trials and breakthrough medicine from lab to bedside.
Hartford: Bioscience Enterprise Zone
Hartford will become an incentive zone, offering state tax breaks to private biomedical companies that create jobs and work with UConn Health Network partners.
Upward Momentum
The University of Connecticut Health Center finds a new direction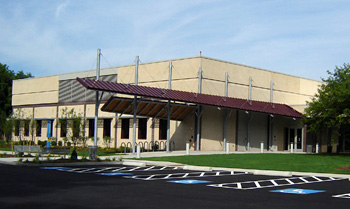 UConn Health Center's Cell and Genome Sciences Building opened in July.
State approval of the new UConn Health Network plan has given the University of Connecticut Health Center (UCHC) a huge shot in the arm, but it's far from the only progress seen on the Farmington campus these days.
In July, it hosted a ribbon cutting for the Cell and Genomic Sciences Building, a 117,000-square-foot research facility that is now home to the UConn Stem Cell Institute (UCSCI), the Department of Genetics and Developmental Biology, and the R.D. Berlin Center for Cell Analysis and Modeling. The $52 million building has brought approximately 180 scientists and their staffs under one roof.
The objective? To advance interdisciplinary research among academic and industry chemists, physicists, geneticists, biologists, mathematicians and computer scientists to fuel stem cell research and ultimately, the transfer of that technology to the patient care.
Dr. Cato Laurencin, UCHC's vice president for health affairs and dean of the UConn School of Medicine, said the center is doing cutting-edge work on "pluripotent" cells, which are harvested from adult skin and specially treated to become stem cells. "We believe that has great promise for treating a variety of conditions," he said.
The new building also has the option of providing incubator space for businesses working to commercialize stem cell science.
However, UConn's stem cell work is just one small part of the current buzz surrounding the campus. "This is an exciting time for the UConn Health Center on all fronts," said Dr. Laurencin.
The hospital, which operates a signature heart program, recently received an award for its work from the American Heart Association - proof of the success of the team of cardiologists, hypertension experts and vascular surgeons who work together at the Pat and Jim Calhoun Cardiology Center to treat, and help prevent, cardiovascular disease.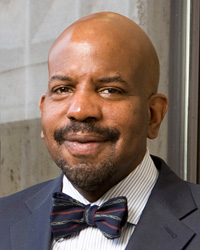 Dr. Cato Laurencin
UCHC also specializes in musculoskeletal medicine and orthopedic surgery, with national and international leaders in sports medicine arthroplasty practicing at the health center. One of them, Dr. Jay Lieberman, recently won The Jurist Award, "the highest award for someone working in regeneration research," according to Dr. Laurencin. Dr. Lieberman has been director of the New England Musculoskeletal Institute and chairman of UCHC's department of orthopedic surgery since 2006.
Another major area of expertise is its oncology treatment program. The network is pursuing designation as a Comprehensive Cancer Center, which would provide increased opportunities to seek research funding and conduct clinical trials.
In addition to serving as a hub for education through its highly regarded medical and dental schools, UConn is in a unique position to offer state-of-the-art clinical care to patients, Dr. Laurencin said, noting that because of its unique academic and medical environment, the translation of medical discoveries to clinical trials and the bedside is expedited. As a result, "we are not only doing cutting-edge work in the clinical area but, through our research, creating answers for tomorrow."
Overall, 2010 has been a very good year for the health center. Not long ago, there was talk of closing it, and the organization was in financial jeopardy. Now, in addition to being identified as a major player in the new health network and chosen as the location for a multi-million-dollar rejuvenation project, UCHC's finances are back on track - "we had a small positive margin last year" - and a similar financial result is forecast for this year. As well, UCHC recently received full re-accreditation.
Moreover, said Dr. Laurencin, "we've had a record year in terms of obtaining outside grants. The majority are federal grants for research. We surpassed the $100 million mark for first time, thanks to the extraordinary work of our staff. This has created both short-term and long-term jobs. We're very excited about the transformational things that are happening here." He said while UCHC was already providing state-of-the-art care, "a great medical facility thinks about the future."
The new patient tower and renovation of existing facilities - along with the new joint projects under way with other Hartford-area hospitals will ensure that the future is bright, he believes.
"The governor came up with a bold plan to rejuvenate not only UConn Health Center but the entire region," he said.