Headlines
As reported by The Hartford Courant, February 22, 2011.
Greeter Enjoys Job, Life
Philip Myrun Doesn't Let Cerebal Palsy Affect His Dedication to Working at the UConn Health Center
By Melissa Pionzio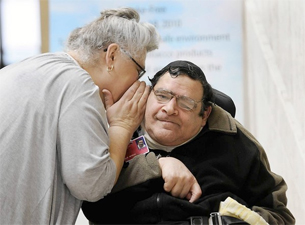 Sandra Krawczynski (left) whispers to Philip Myrun (right) that he should sing a song for a visitor at the UConn Medical Center's School of Medicine where Myrun has been a volunteer for 30 years. Myrun, of West Hartford, has cerebral palsy which affects his speech, but he is still able to greet visitors and students - and sing an occasional song - and give directions if needed. Myrun is greeted warmly by staff and students during his 8:00 a.m. to 1:30 p.m. Monday through Friday shift. Krawczynski is an administrative coordinator in the Dental Academic Affairs office.
Photo courtesy of Cloe Poisson, The Hartford Courant
FARMINGTON — If you've been to the UConn Health Center, chances are you've encountered Philip Myrun.
As an ambassador services volunteer at the academic entrance of the center's medical and dental school, Myrun is the first person visitors see when they walk through the door. For those who don't know him, their first impression of Myrun might be clouded by the fact that his mobility and speech are hampered by cerebral palsy.
But Myrun has never let physical challenges stand in the way of his duties and says his work at the hospital has enriched his life in many ways.
"I have cerebral palsy," Myrun said. "When I was born I had damage to my brain, but not the thinking part!"
The agility of his brain quickly emerges during conversations with Myrun, who has a sharp memory for names, dates and faces and soaks up any other information that comes his way.
"He would come to our lectures occasionally and sit in the back," said Marcus Moss, a third-year student at the UConn School of Dental Medicine. "Often the students wouldn't have any questions, but you would hear a voice in the back of the room and it would be him saying 'I have a question.' That's why I started calling him 'Dr. Phil.' "
A graduate of Central Connecticut State University, where he majored in political science and history, Myrun had dreams of becoming a lawyer, but his health interrupted his plans. With time on his hands, Myrun started volunteering for the health center in 1980 as a courier, transporting letters and other correspondence from one department to another.
"I was walking in those days," said Myrun, 63, who now uses a motorized wheelchair to get around. "But I got tired of that job and they put me here and I've been working here for 28 years. I really like this job."
Jan Anne Bernard, the center's director of volunteer services, said Myrun is a capable, reliable volunteer who always puts his duties to the medical center first.
"He's always supported anyone coming in through that front door. He accompanies them even if it's halfway around the building," said Bernard. "He's always polite, accommodating, never puts up a fuss for anything."
"I would say that the biggest thing that I've learned from him is that you never have an excuse to have a bad day," said Moss. "He doesn't make excuses if he's having a rough time or doesn't' feel well. He comes to work, he's smiling, he's greeting people. You determine what kind of day you are having — it's your attitude."
In 2010, Myrun was honored for 25,000 hours of volunteer service during the center's annual volunteer dinner.
"He's just a sweet, sweet gentleman," Bernard said. "I admire his strength, his stamina."