Feature Story
As published in the UConn Advance, November 13, 2006.
Neags' Gift to Help Health Center Offer New Cancer Treatment
By John Sponauer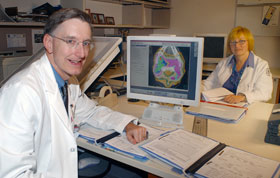 Dr. Robert Dowsett and Karen Stook of the Health Center's radiation oncology department are planning for next summer's installation of TomoTherapy equipment. The machine will offer a new type of cancer therapy.
Photo by Janine Gelineau
Thanks to a gift of $2.5 million from Carole and Ray Neag, the UConn Health Center is scheduled to offer a revolutionary new cancer treatment.
Starting next summer, patients and clinicians at the Carole and Ray Neag Comprehensive Cancer Center will have access to a Helical TomoTherapy Hi-Art system.
The Health Center will be the first facility in New England to offer the treatment.
There are currently only about 100 TomoTherapy machines in use worldwide.
Dr. Carolyn Runowicz, director of the cancer center and president of the American Cancer Society, says the addition of TomoTherapy is a tremendous asset to the Health Center's patients and its medical staff.
"This technology fits in perfectly with our mission and vision to provide state-of-the-art care to the residents of Connecticut," she says.
TomoTherapy delivers radiation to a precisely mapped section of the body with an accuracy not previously possible.
This precision not only allows for more specific treatment of tumors, but also reduces the amount of healthy tissue exposed to radiation.
"What this means for our patients is more accurate treatment," says Dr. Robert Dowsett, division chief of radiation oncology at the Health Center.
"Precision and accuracy can make a big difference in treating some tumors that are adjacent to critical organs, for example, cancer in the head and neck, brain, or prostate."
Dowsett says even sophisticated existing treatment methods for head and neck tumors still expose the salivary glands to significant radiation.
Over time, this leads to discomfort and dental problems as the glands dry out. By focusing the radiation more precisely, those side effects may be less severe.
Prior to treatment, detailed 3-D images are taken of the patient, and the doctor uses special software to "paint" on the image, identifying which regions are to receive radiation, and which should remain untouched.
Unlike previous technologies using wide bands of radiation from a limited number of directions, TomoTherapy uses rotating narrow "pencil" beams of radiation to treat the tumor from all sides, with variable intensity.
The Neags say their interest in TomoTherapy stems from Carole Neag's own radiation treatments, as well as a desire to put the UConn Health Center at the forefront of cancer research and technology.
"This raises the UConn Health Center up another notch," says Ray Neag.
"The people of Connecticut should have the best care available to them, and it's a wonderful opportunity now to upgrade the technology."
Carole Neag envisions the Health Center taking a leadership role in cancer prevention and treatment across New England.
"As we better understand cancer, the Health Center will be on the cutting edge," she says.
"That's what motivated us to make the gift."