Feature Story
As published in the UConn Advance, April 30, 2007.
Dental Students Give Hartford School Children Healthy Smiles
By Carolyn Pennington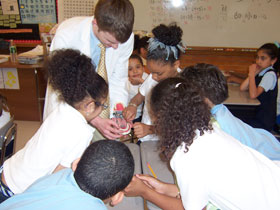 Kyle Sorenson, a second year dental student, discusses taking care of teeth with Hartford school children.
Photo provided by Maureen Wood
Hundreds of Hartford school children have learned the importance of oral hygiene, thanks to students at the School of Dental Medicine.
The dental students, members of the American Student Dental Association, visited second- and third-graders in six of Hartford's public schools last week.
"We're teaching the kids how important it is to take care of their teeth every day," says third-year dental student Lauren Adair.
"Tooth decay is the most common chronic disease of childhood, and too many kids don't get the treatment they need. Hopefully we can help these kids get on the right track."
The dental students went to the Noah Webster MicroSociety Magnet School, Breakthrough Magnet School, Dr. James H. Naylor Elementary School, West Middle School, Mary M. Hooker Environmental Studies Magnet School, and M.D. Fox Elementary School.
They visited 28 classrooms in all, teaching the children how to brush and floss properly, how important it is to see a dentist twice a year, and the proper diet to avoid tooth decay.
They also handed out toothpaste and toothbrushes to each child.
"Tooth decay is a preventable disease," says Tim Levine, a third-year dental student.
"Children that learn how to brush and take care of their teeth now are that much less likely to have cavities and are more likely to take care of their teeth for the rest of their life."
He said the highlight of the day for the kids is when, while describing visits to the dentist, one child from each class is dressed up in a white coat, masks, gloves, and goggles.
The program is ASDA's single largest community service project and is UConn's contribution to national Give Kids A Smile Day.
The annual event was created by the American Dental Association and was designed to provide education, preventative, and restorative care to low-income children who do not have access to care.
The national Give Kids A Smile Day was Feb. 2, but the school's academic calendar forced UConn ASDA to pick its own day.
The American Student Dental Association is a student-run organization based in Chicago.
Each dental school in the country has a chapter that organizes community service projects, social events, and legislative advocacy for dental students.