Feature Story
As published in the UConn Advance, April 2, 2007.
Federal Grant Supports Study of Rare Genetic Skin Disorder
By Kristina Goodnough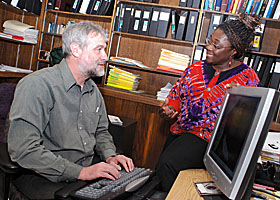 Professor Ernst Reichenberger discusses his NIH-funded study of keloids, a rare wound-healing disorder, with collaborator Victoria Odesina.
Photo by Janine Gelineau
Despite its stable appearance, skin is in a nearly constant state of flux, shedding and re-forming. When the process goes awry, the result can be a troubling disease.
By studying a rare genetic skin disorder, Ernst Reichenberger hopes to broaden understanding of important biological mechanisms in healthy humans.
With a five-year, $2 million grant from the National Institutes of Health, Reichenberger and colleagues in the Center for Restorative Medicine and Skeletal Development will study keloids, a relatively rare wound healing disorder that affects mostly darker skinned populations in the U.S. and around the world.
Reichenberger's goal is to find the genetic mutations that cause the disorder, and develop the molecular understanding necessary for developing effective treatments.
"We take a genetic approach to the study of human disease," says Reichenberger, an assistant professor in the Department of Reconstructive Medicine.
"To find out how certain mechanisms operate in a healthy person, we study human genetic disorders in which they are disrupted."
Keloids occur when scar tissue keeps growing beyond the margin of a wound, resulting in a tumor-like growth that can continue to grow and doesn't go away with time.
They can arise from a small scratch, a bug bite, even from acne. They are usually physically painful and, because of their appearance, are often emotionally distressing.
For the study, Reichenberger and colleagues in his laboratory are recruiting families with individuals who tend to form keloids.
"Because it is a fairly uncommon disorder, finding individuals to participate in the study can be a challenge," Reichenberger says, "so we have established a unique network of collaborators for family recruitment."
In addition to local recruitment though the General Clinical Research Center at the Health Center, the researchers will recruit nationally, with the help of physicians in North Carolina and New York.
They will also recruit internationally, working with two Nigerian medical facilities in Osogbo and Ibadan.
The clinics are located in a population of relative genetic homogeneity, and they treat many patients with keloids.
The collaboration was made possible by Victoria Odesina, a clinical research facilitator in the General Clinical Research Center, who was born in Nigeria and still has family there.
During the first year of the study, Reichenberger and Odesina will visit the country several times to work with investigators there.
As they recruit volunteers for the study, they will collect DNA samples for genome scans using microarray technology that allows simultaneous evaluation of thousands of gene markers.
They will compare the genomes of affected and unaffected family members, and find out which genome intervals are shared by those affected with the disorder.
"Our ultimate goal," Reichenberger says, "is to determine the location of the genes involved in keloids and their full biological role."