Feature Story
As published in the UConn Advance, February 19, 2007.
Health Center's IVF Success Rates Surpass National Average, Report Says
By Maureen McGuire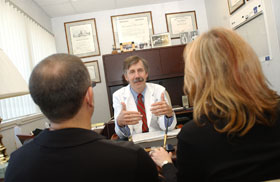 Dr. John Nulsen, medical director of the Center for Advanced Reproductive Services at the Health Center, counsels a couple about fertility treatment options. A new national report shows that the Center continues to achieve IVF success rates significantly above the national average in many categories.
Photo by Frank Barton
An annual report from the Society for Advanced Reproductive Technology (SART) on national success rates for babies born through in vitro fertilization (IVF) offers good news for couples considering fertility treatments at the UConn Health Center.
The report shows that the Health Center's Center for Advanced Reproductive Services achieved success rates significantly above the national average in many categories and age groups, including notable success rates for women over age 35.
The report also shows that the UConn center continues to achieve lower rates of higher-order multiples (triplets or more) than the national average.
SART has recognized the Center in the past for its ability to minimize the number of higher-order multiple births.
IVF success rates for women between the ages of 35 and 37 are 35.8 percent nationally, compared to 44.3 percent at the Health Center.
While the national average of triplets or higher for women under 35 is 4.3 percent, the UConn center's average for the same age group is 1.4 percent.
"The Center continues to demonstrate success, not only in the percentage of live births achieved, but also in our ability to lessen the potential for those pregnancies with triplets or more," says Dr. John Nulsen, medical director of the Center.
"Higher-order births carry serious health risks for both the mother and the babies," Nulsen says.
"We are very committed to keeping those numbers as low as possible through a thoughtful, research-based process. We're proud of our success."
Reliable Data
The new report, 2005 Assisted Reproductive Technology Success Rates, reflects pregnancy data provided by 343 reporting fertility clinics throughout the U.S.
The report is intended to help consumers make informed decisions, and includes state-by-state data and findings from fertility programs.
All data is available online, at www.sart.org.
"It's important to review credible data from sources such as SART when choosing a fertility center," says Dr. Donald Maier, chief of the Health Center's Division of Reproductive Endocrinology.
"The decision to use IVF or any other form of advanced reproductive technology is a very serious matter for couples."
Experts also advise patients to make sure their physicians are all board-certified in reproductive endocrinology and infertility, or are candidates for board certification.
"Make sure that the IVF lab is accredited by the College of American Pathologists and meets the rigorous standards of the Clinical Laboratory Improvement Act," says Dr. Claudio Benadiva, director of the Center's IVF lab.
UConn's center meets all of these requirements. In addition, Benadiva is certified by the American Association of BioAnalysts as a "High Complexity Lab Director."
When to Seek Help
If the woman is under age 35, couples are generally advised to seek medical help if they are unable to achieve pregnancy after a year of trying.
If the woman is over 35, medical help is recommended after six months, since fertility declines with age.
While an OB/GYN can start some of the basic tests, it is recommended that couples work with a reproductive endocrinologist as soon as possible.
"A board-certified reproductive endocrinologist brings a broader perspective to each couple's unique situation," says Maier, noting that the combined UConn team, including the nursing and lab staff, has decades of experience in fertility treatment.
Reproductive endocrinologists have additional training and advanced knowledge and skills to diagnose and manage the underlying medical problems that can cause fertility problems.
Plus, at a university hospital like the UConn Health Center, where physicians are engaged in clinical research on new treatments and approaches to care, patients benefit from the latest innovations.
The Center, the largest one in Connecticut, has offices in Farmington, Hamden, and Hartford.
For more information, call 860-679-4580 or visit this website.