Feature Story
As published in the UConn Advance, February 12, 2007.
Dental Program to Boost Services for People with Special Needs
By Carolyn Pennington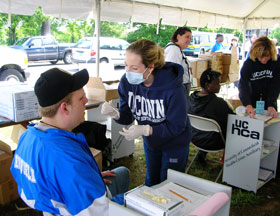 Fourth-year dental students Tara Valiquette, center, and Ivelina Jurkowski, right, provide dental care and screening to some of the participants in the 2006 Special Olympics.
Photo by Michael Goupil
A new program at the School of Dental Medicine will provide much needed additional dental services to special needs consumers.
The Department of Mental Retardation is partnering with the dental school to provide $100,000 in funding for the Collaborative Dental Fellowship Program.
UConn's Advanced Education in General Dentistry residency program already treats a significant number of adults with developmental disabilities.
In fiscal year 2006, the dental school provided health care services to more than 2,500 outpatient special needs patients, and 37 emergency and 79 operating room cases.
With the new fellowship program, the school will be able to provide services for approximately 72 additional operating room cases and 990 additional outpatient clinic visits per year.
These enhanced services will dramatically reduce the waiting time for dental care for special needs patients.
"The School of Dental Medicine is delighted to expand this opportunity of care to this most vulnerable population of patients, who require highly skilled and knowledgeable clinicians to meet their needs," says Monty MacNeil, dean of the School of Dental Medicine.
"We hope that through this partnership, Connecticut will become a 'best practice' model for the rest of the nation in providing dental care for adult special needs patients."
Dr. Steven Lepowsky, associate dean for clinical affairs and chair of the Division of Advanced General Dentistry at the dental school, says "The number of patients we treat has increased steadily during the past decade. We are responding to an ever-increasing number of patient referrals from health care agencies, mental health agencies, day and residential programs, and from the Department of Mental Retardation directly."
The program also receives an average of six referrals per week from hospitals and community health centers across the state for individuals with developmental disabilities requiring acute and comprehensive dental care.
Lepowsky says the volume of referrals of developmentally disabled adults far exceeds current operational capacity.
"The project will result in a significant increase in the volume of services that can be provided, a significant increase in the number of patients served, and a significant decrease in waiting time for care," he adds.
DMR Commissioner Peter O'Meara says the partnership with the UConn School of Dental Medicine is "a giant step toward helping our consumers and others with their dental needs."
In addition to the creation of the Dental Fellowship Program, DMR will hire a coordinator of dental services, who will work closely with UConn and community providers to help increase access to oral health care services, and recommend standards of dental care for consumers with mental retardation and developmental disabilities.