Feature Story
As published in the UConn Advance, January 22, 2007.
Medical School's Urban Service Track Builds Pipeline for Inner Cities
By Kristina Goodnough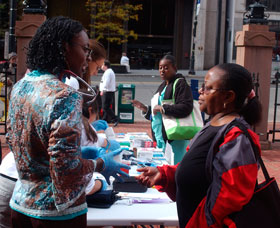 UConn medical student Abimbola Sunmonu, left, at a School of Medicine health fair at the Old State House in Hartford. The health fair is part of a Health Center program that gives students opportunities to work with people in the community and gain experience in inner cities.
Photo by Janine Gelineau
UConn's schools of nursing, pharmacy, medicine, and dental medicine are collaborating on an urban service track to develop and encourage qualified health care professionals to care for the state's underserved populations in its urban centers.
Three to four individuals from each school will be selected as urban health scholars to participate in the program.
The track will provide students with mentorship, training, and financial support to help them practice and be successful in urban communities.
The goal is to ease the growing shortage of health care workers, and address the unmet health needs of urban communities.
"Our goal is to build a pipeline of diverse health care providers committed to working with the underserved in urban areas," says Dr. Bruce Gould, professor of medicine and associate dean for primary care in the School of Medicine.
"We want to help students gain exposure to the complex health care issues in the inner city," says Charles Huntington, associate director of the Connecticut Area Health Education Center Program.
The urban health scholars will develop competence in areas such as health policy, advocacy, health care financing and management, community resources, and cultural and language issues, in addition to the science and clinical curricula of their respective schools.
They also will gain clinical enrichment experiences in community agencies that already provide health care services to underserved patients (e.g., community health centers), and participate in programs such as clinics for migrant and seasonal farm workers, services for the homeless, and mentoring programs.
"The urban service track is for students who are passionate about three things: serving the underserved, working in urban settings, and receiving inter-professional experiences," says Carol Polifroni, interim dean of the School of Nursing.
"Nursing students will work with medical, dental, and pharmacy students in health care teams. When care is delivered in a collaborative fashion, patient outcomes are better."
The first group of urban health scholars will be admitted this fall.
"We've already received lots of inquiries about the program from both current and prospective students," says Petra Clark-Dufner, coordinator of the urban service track.
Nursing Student Caitlin Mulligan said in her application to the program, "For as long as I can remember, I have wanted to work in the 'big city.' This track will create an ideal environment for me and prepare me to fulfill my lifelong goal."
Financial support for the urban service track is provided by UConn's Center for Public and Health Policy and the Connecticut Area Health Education Center program, and by grants from external organizations, such as the Universal Health Foundation of Connecticut, the Richard Davoud Donchian Foundation, and the American Savings Foundation.
The urban service track is sponsoring three educational events for interested students from the schools of Dental Medicine, Medicine, Pharmacy, and Nursing during the current academic year.
The next program will focus on cross-cultural communication and will be held at the Health Center on Thursday, March 29.
For more information about the March 29 program or the Urban Service Track, contact Clark-Dufner at 860-679-7971 or by e-mail at clarkdufner@uchc.edu.