Feature Story
As published in the UConn Advance, May 14, 2007.
Pulmonologist Honored for Children's Asthma Program
By Kristina Goodnough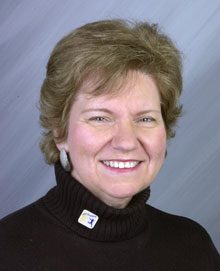 Dr. Michelle Cloutier.
Photo supplied by Connecticut
Children's Medical Center
Thousands of children in Hartford and surrounding towns are breathing easier because of Dr. Michelle Cloutier, a pediatric pulmonologist who is this year's recipient of the UConn Health Center Board of Directors' Faculty Recognition Award, which is given each year to recognize outstanding academic and professional accomplishments.
Cloutier helped develop Easy Breathing, a disease management program designed to reduce the burden of asthma in youngsters. It helps physicians recognize asthma in their patients with a standardized survey that can be used along with a child's medical history and physical exam. It also provides guidelines for determining asthma severity and appropriate asthma treatment plans to manage the disease in individual children.
Cloutier developed the program in 1998 with a grant from the Donaghue Foundation.
The goal was to help busy physicians identify and treat asthma, a common, chronic condition among Hartford children and a leading cause of hospitalizations, emergency room visits, and missed school days.
The challenge for primary care physicians is the need to be an expert in about 250 different diseases, says Cloutier.
Easy Breathing helps them identify and treat asthma.
The hour-long training is provided at no cost to the physicians, and is usually scheduled during a lunch hour.
The program was initially developed for use in busy urban clinics with lots of patients. To reach more children, Cloutier and her colleagues in the Asthma Center, which is housed at Connecticut Children's Medical Center, decided to offer the program to physicians in private practices.
There are about 670,000 children under age 18 in Connecticut and more than 70 percent of them receive their medical care from doctors in private practices, Cloutier says.
Another grant from the Agency for Health Care Research and Quality helped make the program transferable.
More than 300 primary care physicians in 41 communities now use the program, and more than 70,000 youngsters have been enrolled in it. Careful monitoring and analysis of the program show that it is extremely successful reducing hospitalizations and Emergency Department visits for asthma.
"The private practices that have adopted Easy Breathing also have achieved a 29 percent decrease in urgent-care outpatient visits," says Cloutier.
The goal now is to expand the program statewide.
"There are about 1,000 pediatric clinicians in Connecticut and we plan to invite all of them to participate in the program," says Cloutier.
"I know we're making a real difference with thousands of kids."
Cloutier's teaching and training abilities rate with medical students as well as with physicians in the community.
For three years in a row, she was selected by first and second-year students to receive the Outstanding Teacher Award.
"I am pretty much a full-time teacher in January, February and March every year," says Cloutier, who teaches respiratory physiology.
"Students ask some of the most penetrating questions and they won't let you use jargon. They keep you honest."
Cloutier will share the award's $10,000 prize with her colleagues at the Asthma Center.