Feature Story
As published in the UConn Advance, November 5, 2007.
Health Center Hosts Debate on Homeopathic Medicine
By Chris DeFrancesco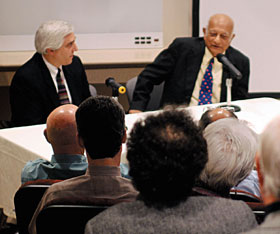 Dr. Steven Novella of Yale University, left, and Dr. Rustum Roy of Penn State, during a debate about homeopathy that was held at the Health Center.
Photo by Janine Gelineau
Major U.S. medical schools don't usually offer a stage for the long-running debate over homeopathy and its place in modern medicine.
But at the UConn Health Center on Oct. 25, six internationally renowned experts took part in a forum on homeopathic medicine. Dozens listened in person in the Low Learning Center, and several hundred people around the world listened via webcast.
Homeopathy is an alternative form of health care based on the concept "like cures like."
Treatments involve stimulating the body's defense mechanisms by giving small doses of substances that theoretically would produce the same or similar symptoms of illness in healthy people if given in larger doses.
The homeopathic practitioner customizes treatments, not necessarily giving the same remedy to treat the same illness in different patients.
History has called into question the science behind homeopathy, said Dr. Nadav Davidovitch of Columbia University and Ben-Gurion University of the Negev in southern Israel.
Joining the forum from Tel Aviv, Davidovitch suggested that a person's belief in homeopathy is derived from his or her willingness or refusal to be bound by the generally accepted rules of science based on molecular research.
Dr. Donald Marcus of Baylor University said, "There is no rigorous evidence to support the efficacy of homeopathy, and there are some potential adverse effects. I think there have been enough clinical trials that I don't think federal funds should be used to support further clinical trials of homeopathy."
Dr. Iris Bell of the University of Arizona agreed that it will take more research to satisfy classic scientific standards, but said other research can't be ignored.
"There are multiple observational studies," Bell said.
"And what you see is an average rate of around 70 to 80 percent favorable outcomes for the people who in the real world have found their way to homeopathic treatment across a long range of chronic and acute illnesses."
Andre Saine of the Canadian Academy for Homeopathy presented results from homeopathic literature going back two centuries.
The statistics showed that mortality rates during certain epidemics were significantly lower among those treated by homeopaths compared to those treated by physicians practicing conventional medicine.

"The epidemiological evidence for homeopathy, despite being very compelling, is one of the most ignored chapters in the history of medicine," Saine said.
Still, the science is lacking, said Dr. Steven Novella of Yale University.
"We have to look at homeopathy in the context of the chain of claims that are being made for it," Novella said.
"It is based upon a law of similars, which does not exist in biology and 200 years of research has failed to identify, a concept of disease which has more to do with prescientific philosophy or superstition-based medicine, not science-based medicine."
Marcus, whose presentation was based on the evidence of clinical trials, said that while it's clear some people who receive homeopathic treatment feel better and are relieved of their symptoms, the reason is open to interpretation.
He said his interpretation is that a lot of the benefit derives from the extensive consultation and supportive interactions between homeopathic practitioners and their patients.
"And also there's the placebo effect of taking any kind of remedy, homeopathic or otherwise," he said.
The Health Center is one of 39 institutions that make up the Consortium of Academic Health Centers for Integrative Medicine.
The group defines integrative medicine as the practice of medicine that emphasizes the patient-practitioner relationship, focuses on the whole person, uses all appropriate therapeutic approaches, and is informed by evidence.
The debate was organized by UConn faculty members Drs. Mary Guerrera and T.V. Rajan.
About 700 computers around the world linked to the program through the Internet. The forum also is available for playback online.