Feature Story
As published in the UConn Advance, October 9, 2007.
Experts Say Understanding Risk Factors First Step to Cancer Prevention
By Maureen McGuire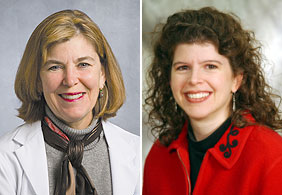 Dr. Molly Brewer, left, director of the Division of Gynecologic Oncology, and Jennifer Stroop, a genetic counselor at the Health Center.
Photos by Lanny Nagler, left, and Janine Gelineau
The first step for women who want to reduce their risk of breast, ovarian, and other cancers is to thoroughly understand their risk factors, including family history.
The second step is to adopt an ongoing, personalized prevention plan that reflects their unique risks.
That was the message from experts with the Health Center's Neag Comprehensive Cancer Center during a Discovery Series panel discussion on Sept. 25.
"Throughout my career, I've come to see each cancer – especially ovarian cancer, which is very difficult to treat when detected late – as a missed opportunity for prevention," said Dr. Molly Brewer, director of the Health Center's Division of Gynecologic Oncology.
Brewer, a nationally recognized expert, said one of the reasons she joined the Health Center faculty last year was the opportunity to focus her practice on prevention.
Under her leadership, the Health Center recently started a new Women's Cancer Prevention Program within the Neag Comprehensive Cancer Center.
Brewer and the other panelists emphasized that women must learn all they can about their risk factors.
"It's so important to accurately understand your risk," said Stacy Cruess of the University's Center for Health, Intervention and Prevention and the Women's Cancer Prevention Program.
"The tools we have are not perfect, but they will give you the best possible estimation of your risk – and this will help you make appropriate decisions."
One of the best ways to learn about individual risk, the panelists emphasized, is comprehensive genetic counseling.
"Any person who is concerned about a family history of cancer should consider genetic counseling," Brewer said.
Jennifer Stroop, a genetic counselor at the Health Center who is also part of the Woman's Cancer Prevention Program, said, "We work with women to develop a detailed family tree, and use mathematical models to calculate each person's approximate risk of developing certain types of cancer."
For some individuals, genetic counseling may lead to genetic testing.
Researchers have identified two major breast and ovarian susceptibility genes, BRCA1 and BRCA2. The lifetime risk for breast cancer for women with BRCA mutations is between 50 percent and 85 percent.
The lifetime risk for ovarian cancer varies even more significantly between families, but may range between 20 percent and 60 percent.
Stroop said less than 10 percent of all breast cancers are linked with an identified BRCA mutation.
Brewer noted that genetic testing is not necessary for everyone, and said it should not be offered without genetic counseling, "because it can be overwhelming and, frankly, confusing.
"The presence of either of these genes does not guarantee that a woman will develop cancer, nor does their absence guarantee that she won't," she said.
If a woman tests positive for a BRCA mutation, there are several routes she can take to reduce her risk of cancer.
The most aggressive approach is to surgically remove her breasts or ovaries.
While these measures drastically reduce her chances of developing cancer, no surgery is without risk or side effects, the panelists said.
"Prophylactic surgery is not an option any woman should rush into. She needs to give it a lot of thought," said Brewer.
Added Cruess, "What we have learned, and what studies have shown, is that the process of decision making is best facilitated when women have the opportunity to thoroughly examine the risks and benefits of each risk-reduction option – whether it's surgery, chemoprevention, or increased surveillance – and to make a decision based on a clear understanding of what to expect and of what is important to them."
Other cancer prevention measures include medications such as Tamoxifen or oral contraceptives, as well as lifestyle changes, including a diet high in vitamin A-rich fruits and vegetables, and frequent exercise.
For all women, cancer experts recommend regular screenings such as mammography, breast self-exams, and annual clinical exams.
"Through our program," said Brewer, "we guide women through the entire process of understanding their risk and taking action to protect their health."
For more information about the Women's Cancer Prevention Program, call 860-523-6424.
The Health Center's Discovery Series offers free, health-related lectures to the public. To be added to the mailing list, call 800-535-6232.