Feature Story
As published in the UConn Advance, October 29, 2007.
UConn's Dempsey Hospital Wins National Quality Award
Superior Patient Outcomes Put Hospital in Top 1 Percent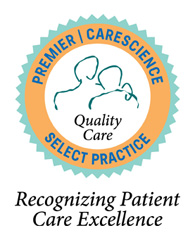 The UConn Health Center's John Dempsey Hospital has been named to another exclusive group.
The hospital has won a 2007 Premier | CareScience Select Practice National Quality Award for superior patient outcomes in both quality and efficiency. Only 1 percent of U.S. hospitals earn this distinction from Premier Inc., the nation's largest independent health care alliance. That makes UConn one of just 49 hospitals or health systems so recognized in the 2007 report.
"This is an enormous honor and a well-deserved tribute to our outstanding staff at John Dempsey Hospital," says James Thornton, hospital director.
Hospitals do not apply for the Premier | CareScience Select Practice National Quality Award.
The formula to determine the winners relies solely on the latest available clinical and quantifiable data: adverse outcomes, length of stay, and patient risk assessment based on 16 clinical factors.
A complete description of the methodology is available online (http://www.premierinc.com/about/news/awards/select-practice-methodology.jsp).
The honor is the second national award the Health Center has won for its hospital this year.
In March, Solucient, a leading source of health care information, named John Dempsey Hospital a "Top 100 Hospital" for 2006, another mark of prestige in health care.
"We have a tremendously skilled, dedicated group of professionals who provide the finest care every day," says Ellen Leone, director of nursing at John Dempsey Hospital.
"They're the reason for this kind of recognition. They deserve every bit of it, and more."
More information about Premier Inc. is available at http://www.premierinc.com.