Feature Story
As published in the UConn Advance, October 1, 2007.
Fulbright Scholar Back from the U.K. with Ideas for Treating Dementia
By Chris DeFrancesco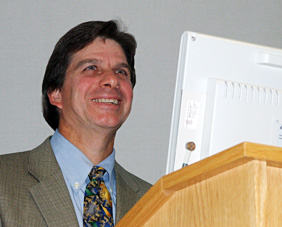 Richard Fortinsky, the Physicians Health Services Endowed Chair in Geriatrics and Gerontology, studied dementia in the U.K. earlier this year.
Photo by Chris DeFrancesco
The answer to improving dementia care in the United States may be to establish a greater support system for primary care physicians, according to Richard Fortinsky.
Fortinsky, from the UConn Center on Aging, bases his recommendations on a visit to the United Kingdom earlier this year as a Fulbright scholar, where he studied how the British health care system deals with dementia.
Fortinsky spent most of his five months overseas at the University of Bradford's Division of Dementia Studies.
During his stay, he also visited Buckingham Palace and met Queen Elizabeth and Prince Philip. "When Prince Philip, who is in his mid-80s and looks hale and hearty, heard that I do research on aging and health, he told me, 'We should talk sometime,'" Fortinsky says.
Fortinsky had discussions with health care and social care practitioners about how they diagnose and manage dementia, the irreversible memory loss and health decline that often occurs as a result of Alzheimer's disease and strokes.
In the U.K., as in the United States, aging of the population over the next several decades is expected to lead to a sharp increase in the number of people with dementia.
Fortinsky, who holds the Physicians Health Services Endowed Chair in Geriatrics and Gerontology at the Health Center, found that, like their American counterparts practicing primary care, general practitioners in the U.K. often have less clinical experience with dementia than they do with many other health problems.
Yet providing primary care physicians with the extra training they need is probably unrealistic, he says, both in the U.K. and in this country.
A dementia diagnosis is challenging for the patient's family.
"What's really important and often neglected is that, as patients' dementia symptoms progress, families assume greater decision-making responsibilities and hands-on care responsibilities," Fortinsky says.
Family members must learn how to manage the symptoms of dementia, and how to take care of the affairs of those with dementia, including everyday tasks like preparing meals and personal care.
"Because of all this added responsibility, many gerontological studies have shown that family caregivers are at-risk for a range of emotional and physical health problems," says Fortinsky.
"Primary care physicians need help to provide the best care not only to the patient but also to the family caregivers."
The National Health Service in the U.K. recognizes dementia as a mental illness, and British law recognizes the stresses, strains, and burdens faced by the families of dementia patients, known in England as "carers."
The National Health Service has what are known as mental health trusts, which provide inpatient and outpatient mental health care in assigned geographic areas.
Within these trusts are community mental health teams that include geriatric psychiatrists who can prescribe medications to treat the memory loss problems associated with dementia.
Dementia patients and family caregivers are referred by their general practitioner to these community mental health teams.
A community mental health nurse becomes the point person, assessing both patients and caregivers, determining and addressing their needs, and making further referrals, as needed.
The general practitioner maintains the overall medical management of the patient, but the community mental health nurse can help with depressive symptoms or anxiety, provide information about community resources to help manage the patient at home, and make home visits.
Fortinsky believes aspects of the British approach could be adapted to U.S. primary care practice.
"The idea would be to train nurses to specialize in dementia care," Fortinsky says.
"Their scope of practice could be determined based on recent experimental studies done in this country, and nurses could work with a group of primary care physicians in a defined geographic area."
He is working with a primary care physician network in Connecticut to develop this concept.
The big question, of course, is how to pay for such enhanced dementia care. Fortinsky is exploring existing reimbursement mechanisms within the traditional Medicare program to determine whether and how they might cover some of the associated costs.
"Dementia will affect more and more people and families as time goes by, and primary care physicians will see more of these patients and families in the office every year," Fortinsky says.
"We may be able to borrow ideas from other countries, even if their overall health care systems are run very differently. Creativity could really help patients and families dealing with this complex and stressful disease, as well as their primary care physicians."