Feature Story
As published in the UConn Advance, October 22, 2007.
$2 Million Imaging Machine to Be Funded with NIH Grant
By Kristina Goodnough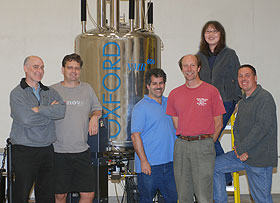 Faculty of the Health Center's molecular, microbial and structural biology department, from left, Jeff Hoch, Michael Gryk, Martin Schiller, Stephen King, Bing Hao, and Mark Maciejewski, stand near some imaging equipment. The Health Center will soon receive a new NMR spectroscope, thanks to an NIH grant.
Photo by Janine Gelineau
The Health Center has received a $2 million federal grant to purchase a sophisticated imaging machine to study the structure, stability, and dynamics of proteins and their role in human disease.
The instrument, an 800 MHz nuclear magnetic resonance spectrometer, also will be used by researchers at the Storrs Campus who collaborated with the Health Center in the grant application.
"Proteins are not static," says Jeffrey Hoch, an associate professor of molecular, microbial and structural biology and principal investigator on the grant.
"They undergo internal motions spanning many orders of magnitude in rate and amplitude. Nuclear magnetic resonance is a powerful tool for probing those dynamics, detailing both the extent and timescale of internal motions. It is also a uniquely versatile tool for determining molecular structure and probing interactions between molecules."
The NMR works by magnetizing the nuclei of atoms so they behave like tiny bar magnets.
Scientists can deduce their properties based on interactions in the strong magnetic field provided by the instrument, and this promotes detailed understanding of the way a molecule looks, how it functions, and how looks and function interrelate.
The shape of protein from an influenza virus, for example, could affect its ability to infect avian or mammalian cells.
Developing drugs to control viruses could depend on molecular shape and function.
NMR technology is one of two major tools (along with X-ray crystallography) used in structural biology, says James Cole, associate professor of molecular and cell biology at Storrs and director of a growing collaboration of researchers at the Health Center and Storrs campuses who use NMR technology to study the architecture and action of protein molecules.
Both campuses have excellent NMR facilities, and the new instrument will complement work done at both sites, he says.
"This is really icing on the cake."
Currently, the largest NMR on both campuses is 600 MHz. The new instrument, which is 800 MHz, will make it possible to study the structure of much larger proteins.
The grant is one of 14 provided by the NIH National Center for Research Resources High End Instrumentation Program, which provides grants to support the purchase of sophisticated instruments costing more than $750,000.
"There are only about 40 of these machines at academic institutions around the country," says Hoch, "and the NIH funded only one this year."
The instrument also will be used by investigators at UMass-Amherst, Connecticut College, Dartmouth College, and Wesleyan and Yale universities. It is expected to be operational in 2008.