Feature Story
As published in the UConn Advance, September 17, 2007.
Youth Health Service Corps Making Positive Impact Across U.S.
By Carolyn Pennington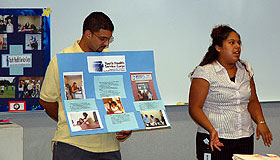 Neli Rivera, right, a Youth Health Service Corps student from Harding High School in Bridgeport, explains her service learning project to conference participants from around the country, as staff member Rick Cruz looks on.
Photo supplied by the Center for
Public Health & Health Policy
Youth Health Service Corps, which took root at UConn's School of Medicine, is now branching out nationwide.
Created by the Connecticut Area Health Education Center nearly three years ago, the Corps mobilizes diverse high school students to provide volunteer service in health care agencies. Its long-term goal is to help recruit these students into health care careers.
"I've always wanted to become a registered nurse, and since I've been volunteering, I've come to realize just how much I really want to be an RN," says Alicia White of Watertown, who volunteered at a nursing home.
"This program changed my life."
Staff from Area Health Education Centers across the nation recently came to the UConn Health Center to receive training, materials, and support so they could replicate the Youth Health Service Corps in their home states.
The training was funded by a $1.1 million grant to the Northwestern Connecticut Area Health Education Center from the Corporation for National and Community Service.
"The conference was a great success," says JoAnn D'Avirro, associate director for service learning training and site development for the Youth Health Service Corps.
"We now have Area Health Education Centers in eight states that will replicate our program this fall."
During the conference, students in the Corps discussed their projects.
They explained how their volunteer work helped them develop a sense of civic responsibility and, at the same time, addressed unmet health care needs in the community.
Lashaya Collins from Waterbury, who volunteered at a soup kitchen and shelter, says, "I was happy to know I was putting a smile on someone's face. Helping others who are less fortunate than you is a great feeling."
Aulona Hoxha from Waterbury helped teach elementary school children about good oral care and healthy eating."I really enjoyed teaching the kids about dental hygiene and nutrition," she says.
"I loved teaching them because they were so ready to learn and interested. I can't wait to do this again. I loved the whole experience."
Since December 2004, 730 Connecticut high school students have received training.
They have performed more than 5,000 hours of volunteer service at about 50 health care agencies, including community health centers, homeless shelters, migrant farm worker clinics, and long-term care facilities.
Student volunteers complete a curriculum that includes modules on vulnerable populations; ethical and legal issues; applied health services; cultural competency; CPR and AED (automated external defibrillator) certification; health education and disease prevention; observation and data collection; emergency preparedness; and peer education and leadership.
Three Youth Health Service Corps students have been awarded the President's Volunteer Service Award recognizing outstanding volunteer service achievement.