Feature Story
As published in the UConn Advance, April 21, 2008.
Once a Student, Now an Award-winning Professor at Dental School
By Chris DeFrancesco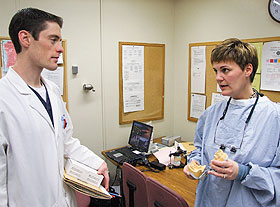 Dr. Jacqueline Duncan, associate clinical professor, speaks with third-year student Nathan West in the dental clinic.
Photo by Chris DeFrancesco
The first impression members of the dental school's Class of 2009 had of Dr. Jacqueline Duncan came several weeks before they matriculated.
"We as a class didn't know what to expect when, the July before our first year started, she sent us a huge homework assignment," says Chris Benton, now a third-year student at the UConn School of Dental Medicine.
The students had to show up to the first class with an intimate knowledge of dental form and structure.
But that tall task didn't keep Benton – and many of his classmates – from casting the votes two years later that would make Duncan the winner of a National Dental Honor Society teaching award.
Duncan has a 20-year history with UConn's dental school. She went through the curriculum herself, earning her D.M.D. in 1992, completing the Advanced Education in General Dentistry residency program a year later, then becoming the first prosthodontic resident at the University.
After earning a certificate in prosthodontics and Master's of Dental Science degree in 1996, Duncan joined the faculty.
Today she is an associate clinical professor and director of predoctoral prosthodontics in the dental school's Department of Reconstructive Sciences.
Duncan also sees patients, practicing complex restorative dentistry such as implants, dentures, and replacement of missing teeth.
She's also heavily involved in curriculum development. But teaching is what she enjoys the most.
"As faculty, we choose to be here because we love doing what we do, whether it's research, administration, or teaching," Duncan says.
"I'm here because I love to teach. My interaction with the dental students doesn't seem like work."
Duncan believes the caliber of the students and the passion of the faculty are what make the School of Dental Medicine thrive.
"It's the students who make the dental school what it is," she says.
"In less than two years in clinic, they go from being dental novices to being competent dentists. It's rewarding to be part of that."
And the students think highly of Duncan, as evidenced by the 2007 Omicron Kappa Upsilon-Phi Chi Chapter Teaching Award, which recognizes excellence in teaching in the first two years of the pre-clinical dental science curriculum.
"Through all my years of education, Dr. Duncan has been one of the best at creating an environment that makes you want to learn," says third-year dental student Brian Bell.
"As a student, I don't think there is anything more you can ask for in a professor."
Says Benton, "Dr. Duncan has been a great mentor to me and I could never begin to repay her for all that she has taught me. She has been a very demanding teacher, pushing us to become better dentists and better people. She constantly pushes us toward excellence and doesn't accept anything less than our best."
Dr. Monty MacNeil, dean of the School of Dental Medicine, says the award was more a "pleasant affirmation" than a surprise.
"As faculty, we have recognized Dr. Duncan's abilities for some time and knew that it would just be a matter of time before students did as well," MacNeil says.
"I think students see her as very passionate about what she does and as someone who will go the extra yard on their behalf in the interests of learning."
MacNeil and Dr. Thomas Taylor, who chairs the Division of Prosthodontics, also credit Duncan for her work on the dental school curriculum.
"Over her years as a faculty member she has created a number of substantial changes in our teaching methodology and direction," Taylor says.
"I would say that in our discipline, we have the most modern clinical curriculum available at any dental school."