Feature Story
As published in the UConn Advance, August 25, 2008.
Researchers Study Impact of Healthy Food Program in Hartford
By Colin Poitras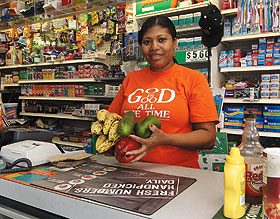 Antonia Helena, owner of Williams Market in Hartford, displays some of the healthy foods available at her store.
Photo by Peter Morenus
Inside the Williams Market on Hartford's Sigourney Street, low-fat milk, fresh orange juice, and crisp green pears share cooler space with bacon, whole milk, and sweet drinks.
At the checkout counter, a basket of fresh bananas sits in front of the racks of cigarettes and single pieces of candy that have been customer staples for years.
The presence of fresh vegetables and fruit at Williams Market is not a seasonal fluke. Over the past year, the market and 39 other small corner stores in Hartford have, on average, shifted 8 percent of their junk food inventories to healthier foods, as part of the Hartford Food System's Healthy Food Retailer Initiative.
This year, Ann Ferris and Katie Martin from the Department of Medicine and the Center for Public Health and Health Policy at UConn, with help from undergraduate students in the Husky Connections Program, are investigating the impact of the healthy food retailer program, in order to help grocers determine what kinds of healthy foods sell best among local consumers.
The project is funded by a two-year, $240,000 grant from the Ethel Donaghue Foundation.
"Limited access to healthy food in Hartford goes hand-in-hand with chronic health problems such as obesity, diabetes, and heart disease," says Martin, a research associate.
"The goal of the initiative is to shift 5 percent of the stores' inventory each year from unhealthy snack foods to healthier food items," she says. "Our hope is that this will bring about real long-term changes that are sustainable in the market, and real change in demand."
Health statistics show that the prevalence of diabetes in Hartford is 120 percent higher than the rest of the state and the rate of hypertension is 29 percent higher.
More than half (51 percent) of Hartford's adults are obese and almost one-third (32 percent) of their children are overweight, according to a recent study authored by Martin and Ferris, co-director of the Center for Public Health and Health Policy.
Part of the problem is economic. Hartford has the fourth lowest median household income among major cities nationwide.
That limited income often leads families to purchase low-cost items like macaroni and cheese, sugary drinks, and other highly-processed foods, according to a February 2007 program report issued by the Hartford Food System.
A lack of available supermarkets selling fresh, healthy foods is also a factor, according to Jerry Jones, executive director of the Hartford Food System. In 1968, Hartford had 13 large supermarkets, he says. By 1983, the number had dropped to three.
Today, there is only one large supermarket chain in Hartford, and there is no major supermarket within city limits north of I-84.
While much attention has been focused in recent years on the need for affordable and accessible health insurance in Connecticut, Jones says the Healthy Food Retailer program tries to intervene where people shop so they will ultimately lead healthier lives, reduce their risk of illness, and save themselves trips to the doctor.
UConn's researchers have helped analyze the stores' current food inventories and surveyed local consumers to determine their shopping habits when it comes to healthy foods.
"This program will only become a model in other places if we can document that it works," Jones says. "Partnering with UConn lets us document what is working and what's not."
Many local shop owners have been reluctant to carry fresh fruits and vegetables because they go bad faster than processed snack food, are less profitable, and take up valuable shelf space, Jones says.
But the owner of Williams Market, Antonia Helena, says her customers are responding to the change.
"I've seen customers buying more healthy foods," she says. "They ask me a lot for 1 percent milk."
The Hartford Food System is one of the nation's oldest organizations dedicated to fighting hunger and improving nutrition for Connecticut's lower-income and elderly residents.
The private, non-profit organization advocates for healthier school meals, oversees a 24-acre nonprofit farm, and does extensive outreach and advocacy in the Hartford community.
The Hartford Food System's Healthy Food Retailer Initiative is one of many service-learning experiences in which undergraduate and graduate students participate at UConn.
The Center for Public Health and Health Policy operates health and nutrition service-learning programs in more than 25 agencies in Hartford, six days a week, year round.
UConn students involved in the programs spend a portion of their school year teaching nutrition to school-age children, reading books to preschoolers, and engaging in physical activities with city kids.
Medical students also run migrant farm worker health clinics in the summer and fall, with the assistance of the Health Center's Dr. Bruce Gould and the Area Health Education Centers.