Feature Story
As published in the UConn Advance, December 10, 2008.
Health Center's Blood Testing Laboratory Now Fully Automated
By Carolyn Pennington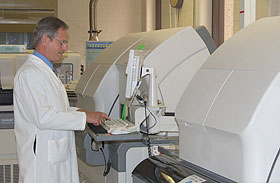 Dr. Sidney Hopfer, a professor of pathology and laboratory medicine, checks the progress of blood vials as they pass through the Health Center's automated system.
Photo by Carolyn Pennington
A new automated clinical laboratory is adding another level of patient protection at the Health Center, as well as cost-savings and safety benefits for staff.
"This is a state-of-the-art system that has not been implemented to the extent we have in any other hospital in Connecticut," says Dr. Sidney Hopfer, professor of pathology and laboratory medicine.
Over the past several years, the Health Center has changed incrementally to automated systems.
Now with one small tube of blood, 88 different tests can be analyzed in a matter of minutes.
Those results are immediately sent via computer to the hospital staff or physician's office that requested the tests.
In the emergency room, where the time factor is really crucial, instead of hours, complete the usual battery of tests is completed in less than 15 minutes.
The new automated equipment fills one large room and is made up of a track system that transports the tubes of blood through a complicated network of testing stations.
The automation is able to handle up to four times the current test volume, enabling the laboratory to grow and provide more test results faster without the need for additional staff. Since 1999, the volume of blood tests performed has doubled to nearly two million tests a year.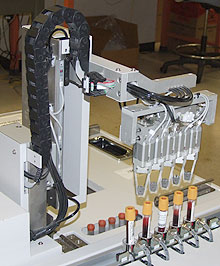 Vials of blood begin their journey through the testing process.
Photo by Carolyn Pennington
A quick answer for worried patients is always a bonus, but the new system brings other benefits. Less blood is collected during the phlebotomy, and because the specimen is handled by human hands less often, the integrity of the specimen is more likely to remain intact.
There are also fewer transcription errors due to the paperless environment and an entire year of results can be placed on one CD so storage area is saved.
If the patient's blood has been tested before, those results are saved and can be used to compare to current test results using sophisticated algorithms in the computer.
For those who work in the lab, there are safety and ergonomic benefits.
Fewer tubes need to be drawn and decapped (about 10 percent of specimens require removal of the tube cap) which means less chance of spillage or breakage and less risk of exposure for the staff.
Hopfer says in the long run, total laboratory automation has produced significant cost savings for the Health Center.
"One of the biggest expenses we had was sending out samples to other labs for testing. Now we can virtually avoid that added cost. We also save money because we utilize our staff more efficiently and negotiate better deals on instrument and equipment expense because of the high volume of tests we do."