Feature Story
As published in the UConn Advance, December 8, 2008.
Health Center a Key Player in Statewide Colonoscopy Pilot
By Chris DeFrancesco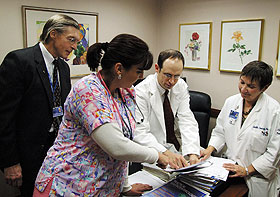 From left, Charles Huntington, Kim Kingsland, Dr. Joseph Anderson, and Judy Conway, discuss the pilot program that will provide colon cancer screening to uninsured and underinsured Connecticut residents.
Photo by Chris DeFrancesco
The UConn Health Center is a leading partner in a state pilot program that by next fall will have provided colorectal cancer screenings for up to 600 uninsured or underinsured Connecticut residents.
The Connecticut Colorectal Cancer Screening Demonstration Project, funded by a state grant, is screening its first patients this month.
Prevention tool
"The colonoscopy is a major prevention tool, but not everyone has access," says Dr. Joseph C. Anderson, clinical director of the Health Center's Colon Cancer Prevention Program.
"The more people we can screen, the more people we can help. Polyps in the colon will become cancerous whether you have insurance or not. People who can't afford a colonoscopy also can't afford not to get screened."
Anderson is medical director of the Connecticut project and is among the physicians providing colonoscopies. He previously played a lead role in similar programs on Long Island and in South Carolina.
The Department of Public Health awarded a grant of more than $950,000, enabling eight community health centers around the state to refer eligible patients – adults ages 50 through 64 – to participating endoscopists, depending on their location.
The program is also providing appropriate follow-up referrals.
"The goal is to promote, improve, and optimize the appropriate use of high quality colorectal cancer screening and follow-up services, and eliminate or decrease racial, ethnic, and socioeconomic disparities in access to these screenings," says Jennifer Granger, chief operating officer of the Community Health Center Association of Connecticut.
Charles Huntington, an assistant professor of community medicine and associate dean for community and continuing education at the UConn School of Medicine, has overseen the training of the community health center practitioners and staff members.
Judy Conway, an advanced practice registered nurse, and medical assistant Kim Kingsland, both of the Colon Cancer Prevention Program, are coordinators for the screening program.
State funding for the grant was available through the Connecticut Cancer Partnership, a coalition working toward reducing the burden of cancer and improving the quality of life of those with cancer.
Promoting public health
"When you break down barriers to preventative medicine, the result is a healthier public," says Public Health Commissioner Dr. J. Robert Galvin, adding that the initiative "will surely result in saved lives."
The Health Center will receive approximately $350,000 for the program, to cover the costs of quality oversight, training and education, data collection and analysis, Anderson's medical directorship, and reimbursement for up to 200 colonoscopies.
"Dr. Anderson has led the effort to bring this crucial program to Connecticut," says Dr. Carolyn Runowicz, director of the Carole and Ray Neag Comprehensive Cancer Center.
"He is a top expert in colon cancer prevention, and prevention is what this is all about. We could almost eradicate colon cancer if only more people were screened."
The community health center partners are Community Health Services in Hartford, StayWell Health Center in Waterbury, Fair Haven Community Health Center in New Haven, Hill Health Center in New Haven, Southwest Community Health Center in Bridgeport, Optimus Health Care in Stamford, Generations Family Health Center in Willimantic, and the Community Health and Wellness Center of Torrington. The other participating endoscopists are in New Haven, Bridgeport, Stamford, Willimantic, and Torrington.