Feature Story
As published in the UConn Advance, February 11, 2008.
Safe Lifting Initiative at Dempsey Hospital Minimizes Risk of Injury to Patients, Staff
By Kristina Goodnough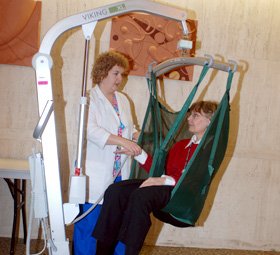 Christine Delgrande of the rheumatology department and Patti Wawzyniecki of the Office of Research Safety demonstrate one of the lifts used to move and transfer patients at John Dempsey Hospital.
Photo by Janine Gelineau
Lifting, transferring, or repositioning patients manually is hard work, and it takes its toll on health care workers and their backs. It also can have an impact on patients, if their skin is fragile or if tubes and devices are knocked awry as they are moved.
To minimize the risk of injury to both patients and staff, the Health Center has adopted a policy to reduce manual lifting except in emergencies, and has provided every department in the hospital with equipment to help.
The tools range from sheets and straps to power-assisted stretchers and motorized lifts that can support and transfer up to 660 pounds.
"Nurses, aides, and other health care staff handle people every day," says Patti Wawzyniecki, industrial hygienist in the Office of Research Safety.
"The constant, repetitive, and forceful movements can lead to injuries over time. We are trying to reduce the number of injuries, the severity of injuries, and the number of days of work lost to injuries."
Wawzyniecki worked with Kim Harris, a physical therapist in Rehabilitation Services, to help launch the safe lifting program at the Health Center four years ago, with funding from the state Department of Administrative Services.
"Patient-handling equipment makes moving and repositioning much safer for patients," says Wawzyniecki.
"The patient is more secure relying on equipment rather than a caregiver for support."
Take, for example, the fairly common case of a caregiver helping a patient walk after surgery. The patient complains suddenly of lightheadedness and collapses to the floor.
That fall could mean serious injuries for the patient. For the caregiver, it could mean a sudden wrenching motion, with injuries to joints and muscles.
The hospital is now equipped with lifts that allow a patient to walk while supported.
Other lifts can help move a patient safely from the floor to a wheelchair or a stretcher.
"This is a safety initiative for both patients and for employees," says Donna Pryor, nurse manager for the hospital's oncology floor.
"We all want the best care for our patients and we also want to protect our employees from disabling injuries."
According to the National Institute for Occupational Safety and Health, the recommended maximum safe lifting weight is 51 pounds, with all lifting conditions perfect – minimal forward reach, steady load close to the body, straight back, load between knees and shoulders, and good grips.
The American Nurses Association estimates a nurse may lift up to a total of 1.8 tons during one eight-hour shift, in conditions that are seldom perfect.
Even when two to four nurses or paraprofessionals are available to do manual lifting together, says Nick Warren, ergonomics coordinator at the Health Center's Ergonomic Technology Center, they still risk herniated discs, serious sprains, and heart attacks.
Such injuries may cause nurses to leave the profession. The American Nurses Association estimates that about 12 percent of those who leave nursing every year do so because of back or other musculoskeletal injuries.
Reducing injury rates and the severity of injuries also helps reduce the cost of workers' compensation.
Between October 2002 and March 2007, workers' compensation costs for seven departments at Dempsey Hospital with significant patient handling responsibilities decreased by 22 percent, from $240,956 to $188,157.
The average cost per injury decreased 39 percent, from $15, 568 to $9,500.
"Our goal," says Pryor, "is to get everyone working together to use these safe handling devices routinely."