Feature Story
As published in the UConn Advance, February 4, 2008.
State Grant to Boost Health Center's Newborn Intensive Care Program
By Chris DeFrancesco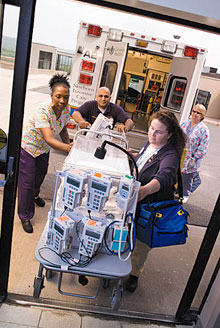 A neonatal intensive care transport team unloads an incubator from one of John Dempsey Hospital's neonatal ambulances. With the help of a state grant and the Health Center Auxiliary, the hospital plans to replace both its neonatal ambulances.
Photo by Al Ferreira
The UConn Health Center will use $1.5 million from the state's Hospital Hardship Fund to make capital investments in the Newborn Intensive Care Nurseries at John Dempsey Hospital.
Social Services Commissioner Michael Starkowski last month announced grants for John Dempsey and seven other Connecticut hospitals, totaling more than $20 million.
The General Assembly established a $30 million Hospital Hardship Fund last year.
"Gov. Rell and the legislature are making sure our hospitals remain financially healthy and resilient through a number of support mechanisms," Starkowski says.
"These awards are a further indication of how important our network of nonprofit hospitals is in caring for the residents of Connecticut."
The Health Center had submitted an application for $3.1 million for the Newborn Intensive Care Nurseries (formerly known as the Neonatal Intensive Care Unit or NICU), and $2.7 million for the dental clinic, mostly seeking support for deficits in both areas from treating Medicaid patients.
The $1.5 million awarded is to match $1.2 million in John Dempsey Hospital funds, collectively earmarked for two new neonatal ambulances, incubators, monitors, bassinets, cribs, and other medical equipment for the Newborn Intensive Care Nurseries, as well as general facility upgrades.
"We're pleased the state recognizes the importance of our Newborn Intensive Care Nurseries, which really are a statewide resource for our youngest and most vulnerable," says James Thornton, director of John Dempsey Hospital.
"This is a significant grant."
In addition to the state grant and the matching funds, the Health Center Auxiliary has undertaken a campaign to raise a further $200,000 for a new neonatal ambulance.
"The goal of the newborn transport program is to continue to make a difference in the outcomes for these babies by ensuring that they experience prompt and safe transportation to John Dempsey Hospital or other hospitals that can provide advanced newborn care," says Dr. Wale Folaranmi, medical director of John Dempsey Hospital's neonatal transport program.
"With this additional support, we can continue this very important task in highly specialized, dedicated ambulances."
John Dempsey Hospital started its statewide neonatal transport program in 1975.
A Newborn Intensive Care Nurseries transport team responds when a newborn requires more care than is available at the hospital where he or she was born, and brings the baby by neonatal ambulance to a facility that is better-equipped for care of acutely ill infants.
During fiscal year 2007, this service was provided 350 times, including 199 trips to John Dempsey Hospital and 70 to the Connecticut Children's Medical Center.
Cassandra Mitchell, associate vice president of reimbursement; Monica Smith, administrative program coordinator; Maureen Guzzi, Newborn Intensive Care Nurseries nursing manager; Peter Agnesi, the Health Center's public safety director; and Joann Lombardo, director of government relations at the Health Center, all played a role in securing the grant.