Feature Story
As published in the UConn Advance, January 28, 2008.
Workshop Aims to Draw Students to Dentistry
By Carolyn Pennington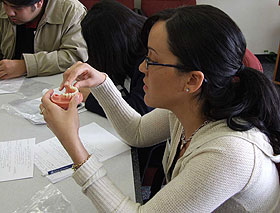 Tiffany Brady, a UConn senior, examines a tooth model, during a recent Passport to Dentistry workshop. The two-day workshop is designed to encourage undergraduates to consider dentistry as a career.
Photo by Carolyn Pennington
A top priority for the UConn School of Dental Medicine is to attract a highly qualified and diverse group of students, with a special emphasis on recruiting Connecticut residents.
That's why the School has started offering a special workshop called Passport to Dentistry, aimed at attracting undergraduates to the profession.
"The workshop allows students to explore the world of dentistry as a career option," says Dr. Edward Thibodeau, associate dean for admissions.
"We offer them a challenging combination of academic and experiential activities, so they gain insight and a greater appreciation for the dental profession."
Following a successful pilot this summer, the two-day workshop was held at the Health Center in January, with 14 students. Many more applied, but class size is limited.
"I thought it would be a good experience and I could learn more about the profession," says Tiffany Brady, a senior majoring in nursing, who attends UConn's Greater Hartford Campus.
The program, which was limited to juniors and seniors, gave them an overview of oral health and disease, and highlights some of the current issues affecting the profession.
The students also visited dental laboratories, where they were able to experiment with some of the basic "tools of the trade."
An important part of the program was the help students received in preparing for the dental school application process and dental admission test (DAT).
Presenters discussed letters of recommendation, application timelines, interviewing skills, and study strategies for the DAT.
"I need to start applying to dental school in just three months, so I need to learn the ins and outs of the process," says Sajal Swaroop, a junior at the Storrs campus, who is interested in biomedical engineering and materials science.
"I like working with different materials, and most aspects of dentistry are pretty much materials driven."
Most of the students who attended the workshop are members of the pre-dental society.
First organized at UConn four years ago, the society now has nearly 70 active members. The workshop is a way of helping them explore the profession.
One of the major goals of the program is to get as many Connecticut residents as possible to apply to the dental school.
"As a state school, part of our responsibility is to train Connecticut's best," says Thibodeau.
"So we're also going to offer the program to students in the Connecticut State University system, as well as some of the private schools in the area."
Thibodeau hopes to offer the workshop at least two or three times a year.
Another important objective is to increase the number of minority students applying to dental school.
"The dental profession in general lags far behind in terms of attracting minority students, so we're hoping these types of programs will help them learn more about dentistry," Thibodeau says.
Evelize Cordero, a junior at the Storrs campus who is majoring in biological sciences, says she has been interested in dentistry since she lost a front tooth when she was about eight years old.
"I had this huge space and was afraid to smile. It made me realize just how important a dentist could be."
Cordero says the workshop reaffirmed her interest in being a dentist, and offered guidance to help her become one.