Feature Story
As published in the UConn Advance, June 2, 2008.
Health Center Physician Works with USA Hockey Team
By Chris DeFrancesco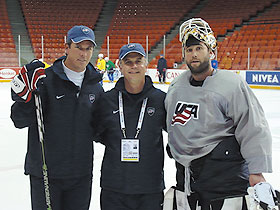 UConn's Dr. Robert Arciero, center, with Team USA assistant coach Mike Sullivan, left, and goaltender Robert Esche during a practice in Halifax, Nova Scotia, in May. USA Hockey selected Arciero as its team physician for the 2008 International Ice Hockey Federation World Hockey Championship tournament.
For the second time in five years, USA Hockey chose Dr. Robert Arciero, one of UConn's sports medicine physicians, to be lead team physician for the International Ice Hockey Federation World Hockey Championship tournament held in May.
While that role may have kept Arciero, a nationally recognized expert in knee and shoulder surgery, out of the operating room for nearly a month, it also kept him busy.
"We had two players who had significant knee injuries and had to be sent back to their home teams," he says. "Then I took care of a couple of concussions, and various contusions caused by either stick or puck hitting wrist or shin or foot.
"The other thing is viruses and cold symptoms. Somebody would come in and say, 'Hey, Doc, my head is all stuffed up,' and I had a whole med bag, I could look in their ears, listen to them. So I did a little bit of 'real doctor' work too, because I'm their team doctor."
Team USA's 2008 roster consisted entirely of professional players. Some of the standouts were Brandon Dubinsky of the New York Rangers, Phil Kessel and Mark Stuart of the Boston Bruins, Patrick Kane of the Chicago Blackhawks (a favorite to win the National Hockey League's top rookie award), and Jason Pominville, team captain of the Buffalo Sabres.
The 2008 tournament took place May 2-18 in Halifax, Nova Scotia, and Quebec City, Quebec.
A typical day for Arciero started with a meeting with the team trainers, whose job it is to make sure the players are ready for the next game.
For the most part, the schedule alternated between practice days and game days. On game day, Arciero showed up at least two hours early, because, he says, the players' pre-game routines are quite involved.
"A lot of them ride the bike, do some weight lifting, they do plyometrics, they play a little soccer, and it's a ritual that they go through before every game," he says.
"Then they go in, they make sure their sticks are the way they want them, they make sure their blades are the way they want – there are two skate-sharpening guys. When they get ready to take the ice, they're as perfect as they can be, in every sense of the word. It's not, 'show up, throw the stuff on and go skate.' There's a lot of preparation."
One thing the team couldn't have prepared for was a disputed goal in Game 5. A replay showed that a puck which had slipped in through the side of the net was allowed to stand as a goal for Finland.
The Americans ended up losing 3-2, their second defeat of the tournament. The International Ice Hockey Federation issued a formal apology to Team USA and fired the referee who made the call.
"But that's it," Arciero says. "We lost, you can't change that."
Team USA won its next game, against Norway, then lost a rematch with Finland in the quarterfinals to finish fifth. Russia defeated Canada to take the gold medal.
Still, Arciero says, working with the team was a positive experience.
"The reward I get is professional gratification," he says.
"I've been chosen on the basis of a career devoted to sports medicine by a governing institution. The USA Hockey medical staff has trusted these world-class athletes to me for three weeks to be their doctor. What I love is that they're as professional in their approach to the games and the coaches as I am to my profession.
"I think the unique thing about hockey players," Arciero says, "is that they're used to a lot of pain, and there's a sort of unwritten rule or unspoken culture that you don't come out of games unless you're really broken. I enjoy taking care of them.
"They're appreciative, they treat you like a person, they don't have a chip on their shoulder, and they don't have any poses," he adds.
"It's pretty cool."