Feature Story
As published in the UConn Advance, March 3, 2008.
UConn Dentist Seeks to Promote Oral Health for Latinos
By Kristina Goodnough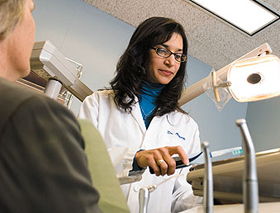 Dr. Sarita Arteaga, an assistant clinical professor of oral rehabilitation, biomaterials, and skeletal development, is president of the Hispanic Dental Association. The Association seeks to improve access to dental care for Latinos and recruit more Latinos to the profession of dentistry.
Photo by Al Ferreira
As one of the few Hispanic dentists in Connecticut – indeed, in the country – Dr. Sarita Arteaga relishes her role as president of the Hispanic Dental Association.
"I'm kind of a pioneer," says Arteaga, assistant clinical professor in the Department of Oral Rehabilitation, Biomaterials, and Skeletal Development.
"Our organization is young, established less than 20 years ago, and I feel like I'm helping build the collaborations and partnerships that support our mission to improve oral health for the Hispanic community. I can see how much we are growing, and I feel my opinions and my work will affect how we move forward."
Elected president in July, Arteaga will serve for 18 months, as the organization changes the appointment from a fiscal year to a calendar year term.
She runs board meetings and oversees committees for the group, which has 2,500 members – including dentists, dental hygienists, and dental assistants – and 31 student chapters (with four more in the works).
She also attends national and regional meetings with other dentists, legislators, and government officials to discuss important oral health care issues and suggest strategies for improvement.
The group focuses on improving access to care and recruiting more Latinos into dentistry.
"We know people are more likely to go to a provider they feel comfortable with, yet Latinos and African-Americans make up less than 10 percent of the country's practicing dentists," she says.
Other roadblocks facing the Latino community are lack of access to treatment because of transportation problems; dentists' reluctance to accept Medicaid; and language and cultural issues, such as lack of knowledge about the importance of daily dental care.
Arteaga says the Association is developing a cultural competency curriculum for dental students and practitioners, including a Spanish class for use in the dental office.
It is also preparing training materials for members who want to sponsor cultural awareness classes or other programs to reduce some of the roadblocks Latinos face in getting care.
"We want to be able provide speakers and materials to help our members and others improve care for Hispanics," she says.
Arteaga first learned about dentistry in grade school, when she helped her mother, a single parent raising two daughters in the South Bronx, study for a degree in dental hygiene.
"That sparked my interest," she recalls.
After graduating from New York University with a bachelor's degree in biology, Arteaga earned a D.M.D. at UConn's School of Dental Medicine and did a general practice residency at Bronx Municipal/Albert Einstein Hospitals.
Returning to Connecticut in the early 1990s, she worked as an associate at several private practices, and began teaching operative dentistry and prosthodontics in 1995.
She joined the Hispanic Dental Association in 1997, becoming treasurer, vice president, president-elect and now, president.
She also serves as advisor to the student chapter in the School of Dental Medicine, a role she plans to continue when her term as president is over.
Says Arteaga, "We want students to understand the need for our mission before they go out into the community and start providing treatment."