Feature Story
As published in the UConn Advance, May 19, 2008.
Pediatric Dentistry Specialist Receives Health Center's Faculty Award
By Kristina Goodnough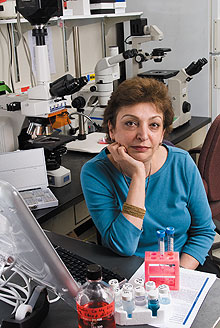 Dr. Mina Mina in her lab at the Health Center.
Photo by Al Ferreira
Dr. Mina Mina, professor and chair of the Division of Pediatric Dentistry in the Department of Craniofacial Sciences, is this year's recipient of the Faculty Recognition Award from the Health Center's board of directors.
She received the award at the Health Center commencement ceremonies May 18.
An internationally renowned researcher in the field of craniofacial biology, Mina received her DMD degree from the University of Iran.
After a brief stint in private practice in that country, Mina decided to focus on research and education. "My parents were educators," she says, "and I always wanted to teach."
She came to the United States for residency training in pediatric dentistry and a master of dental science at Case Western Reserve University.
After completing those programs, she joined the Ph.D. program in biomedical sciences at the Health Center. She graduated in 1989 and joined the faculty in pediatric dentistry.
One afternoon a week, she serves as preceptor to third- and fourth-year students at the Burgdorf Community Clinic in Hartford.
She has also served as mentor for summer research projects for more than 50 dental and medical students and has been the major research advisor or co-advisor for more than 20 pediatric dentistry residents, 15 master's of dental science students, and 12 Ph.D students, many of whom now hold academic positions at universities across the country and around the world.
Since 2002, Mina has served as chair of the dental school's division of pediatric dentistry.
"The division's pediatric dentistry residency program is considered among the best in the country by peer institutions and prospective applicants," says Dr. Monty MacNeil, dean of the dental school.
In the laboratory, the focus of her research has been understanding the molecular mechanisms regulating the growth and differentiation of the skeletal tissues in the lower jaw and tooth formation, and identifying stem cells for tissue engineering a human tooth.
In 2006, she was awarded the Distinguished Scientist Award for Craniofacial Biology Research from the International Association for Dental Research.
"We're delighted the board of directors recognized Mina with this award," says Dr. Richard Skinner, director of clinical operations for pediatric dentistry.
"She is extremely demanding of herself and of others, but she is also very supportive of her faculty and students. She is very skilled at rallying members of our large, diverse division to work well together to accomplish our educational and clinical goals."
The award, which carries a $10,000 prize, was established in 2003 by the board of directors to recognize and celebrate excellent faculty members.
Mina's name and photo will be on permanent display at the Health Center.