Feature Story
As published in the UConn Advance, September 8, 2008.
Cardiology Center Adds Physicians
By Chris DeFrancesco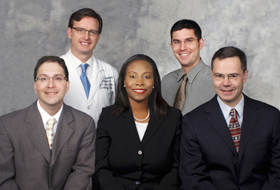 Front row, from left, Drs. Erick Avelar, Anjanette Ferris Senatus, and Heiko Schmitt, and, back row from left, Drs. Christopher Pickett and Jason Ryan, have recently joined the Calhoun Cardiology Center.
Photo by Janine Gelineau
The Pat and Jim Calhoun Cardiology Center added five physicians this summer, including two electrophysiologists to run the Heart Rhythm Program.
Drs. Heiko Schmitt and Christopher Pickett are co-directors of the Heart Rhythm Program. Both completed fellowships in cardiology and cardiac electrophysiology at Beth Israel Deaconess Medical Center in Boston.
"Drs. Schmitt and Pickett are both highly trained specialists with expertise in heart rhythm conditions such as atrial fibrillation, and slow and fast heart rhythms," says Dr. Bruce Liang, director of the Calhoun Cardiology Center.
"They offer medication treatment as well as device-related therapies such as internal defibrillators, specialized pacemakers for heart failure patients, and ablation [removal] of the origin of heart rhythm abnormalities."
Drs. Anjanette Ferris Senatus, Erick Avelar, and Jason Ryan specialize in non-invasive cardiology.
Ferris Senatus joins the Health Center from the Cleveland Clinic Foundation, where she cared for patients in clinical cardiology, preventive cardiology, and the Women's Cardiovascular Center.
"Dr. Ferris Senatus, with her expertise in women's heart health and lipid disorders such as cholesterol problems, adds significantly to our preventive cardiology program," Liang says.
Avelar, director of non-invasive cardiac imaging, comes to the Health Center from Massachusetts General Hospital, where he received advanced cardiac imaging training in cardiac magnetic resonance imaging, echocardiography, and the use of a multi-slice CT (computed tomography) scanner for CT angiograms of the coronary arteries.
Ryan, who earned both his medical doctorate and master's in public health degree at the UConn Health Center, returns with postdoctoral training from Beth Israel Deaconess. His expertise is in echocardiography and cardiac magnetic resonance imaging.
Says Liang, "Drs. Avelar and Ryan add not only breadth but also depth in visualizing the inside of blood vessels and the heart in a non-invasive manner, using the latest heart imaging technology."
James Thornton, director of Dempsey Hospital, says, "The addition of this group of physicians demonstrates our commitment to strengthening our already very strong cardiology program."