Feature Story
As published in the UConn Advance, September 2, 2008.
Researcher Studies Rates of Cesarean Sections, Malpractice Suits
By Kristina Goodnough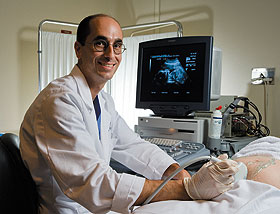 Maternal fetal medicine specialist Dr. Jeffrey Spencer of the UConn Health Center performs an ultrasound.
Photo by Lanny Nagler
There may be a relationship between cesarean delivery rates and medical malpractice rates, according to research by Dr. Jeffrey Spencer, a fellow in maternal fetal medicine at the Health Center.
As the state's medical malpractice premiums increased, the number of cesarean deliveries also rose, according to Spencer, who reviewed the deliveries at Hartford Hospital from 1991 to 2005.
During that time, there were 64,767 deliveries, of which 15,021 (23 percent) were cesarean deliveries. Of the 15,021 cesarean deliveries, 8,045 (59.5 percent) were primary or first-time cesarean deliveries, while 6,076 (40.5 percent) were repeat cesarean deliveries.
During the same time period, medical malpractice rates increased substantially. Spencer obtained mean malpractice premiums for obstetricians from the hospital's major medical malpractice provider and adjusted them for inflation.
The mean premiums for medical malpractice insurance for obstetricians increased from less than $80,000 for an individual physician to more than $120,000.
"When I compared the malpractice rates to cesarean delivery rates prior to 1999, both were declining at a similar rate," says Spencer. From 1999 to 2005, however, both were increasing. "I can't say one led to the other or visa versa," he says, but he speculates that rising medical malpractice rates are driving up cesarean delivery rates.
Normal vaginal delivery is considered safer than a cesarean delivery for both mother and baby if the birth is uncomplicated. Cesarean deliveries are recommended for complications, such as slow or long labor or indications of fetal distress during labor.
"Most of the large malpractice cases result from a poor fetal outcome, that is, an expected 'normal' baby is born with health problems or has a bad outcome for whatever reason," says Spencer. "The MDs get sued because they didn't do all that was possible for the baby – meaning perform a cesarean."
"Malpractice premiums are a huge expense for physicians," says Spencer. "It's difficult for them not to practice defensive medicine. But although cesarean deliveries are less risky for the baby, they are more risky for the mom, with longer recovery times, generally, than vaginal deliveries. It's important to consider whether every cesarean delivery is truly necessary."
It's possible that there are other factors that may also account for the association," says Spencer, who presented his research at the American College of Obstetricians and Gynecologists annual meeting last spring. "With our data, we cannot prove a causation but only suggest an association."
Nationwide, cesarean deliveries accounted for 30.2 percent of all deliveries in 2005, compared to 20.7 percent of deliveries in 1996. The rising rate of cesarean deliveries has triggered a debate over whether the increase can be attributed to medical necessity.