Feature Story
As published in the UConn Advance, September 22, 2008.
Dental Implant Center Opens at Health Center
By Maureen McGuire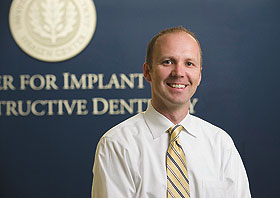 Dr. Donald Somerville, director of the new Center for Implant and Reconstructive Dentistry at the UConn Health Center.
Photo by Lanny Nagler
A new Center for Implant and Reconstructive Dentistry has opened at the Health Center, with a team of nationally-recognized experts who provide a full range of dental implant services to improve health and enhance smiles with natural-looking replacement teeth.
Dr. Donald Somerville, an accomplished prosthodontist who trained at some of the best dental programs in the country, has been appointed director.
The new center, which opened in August, is part of the New England Musculoskeletal Institute. Located on the main level of the Health Center, it has eight state-of-the-art treatment rooms, and sophisticated equipment including a cone-beam tomography unit that quickly and precisely captures 3D and 2D images of jaws and teeth.
"We offer patients today's best technologies as well as the highest quality care from providers who are leaders in the field of dental implant therapy," says Somerville, who has lectured extensively to national and international professional organizations about new advances in dental implant techniques.
"In addition, our specialists with the New England Musculoskeletal Institute and the UConn School of Dental Medicine are leading innovative research initiatives to improve care," he says.
Somerville is not new to the Health Center. He is a 1997 graduate of the UConn School of Dental Medicine, where he received many awards including the Connecticut Society of Oral and Maxillofacial Surgeons Award and the American Academy of Oral Medicine Award.
After dental school, Somerville completed a certificate in general practice dentistry at Harvard University School of Dental Medicine and Brigham and Women's Hospital. While at Harvard, he served as director of the residency program in advanced education general dentistry.
He also received a master's of science in prosthodontics from Texas A&M University Health Science Center and Baylor College of Dentistry.
Somerville joins UConn from Toronto, where he had an active maxillofacial and prosthodontic practice. He was on the dental staff at Princess Margaret Hospital, and was an associate in dentistry at the University of Toronto Faculty of Dentistry.
UConn has been at the forefront of dental implant care, education, and research for many years.
The new Center for Implant and Reconstructive Dentistry will support many research initiatives, including NIH-funded projects, to improve dental implant and restorative techniques, promote bone growth, and develop new materials for implant prostheses. It brings together research initiatives from both the School of Dental Medicine and the New England Musculoskeletal Institute, the Health Center's signature program in bone biology.
"This new center will facilitate our faculty's ability to provide superb care, as well as the ability to perform cutting-edge research that will also benefit our patients," says Dr. Jay Lieberman, director of the New England Musculoskeletal Institute and professor and chair of the Department of Orthopaedic Surgery.
Dental implants are long-term, natural-looking tooth replacements. Unlike dentures or bridges, the implant is surgically implanted in the patient's jaw bone and supports the replacement tooth or bridge.
The surgical implant process typically spans between three to six months, depending on the patient's specific needs.
National and local studies, including a survey completed in 2007 by UConn's Center for Survey Research and Analysis, report very high patient satisfaction rates with dental implants. Many patients reported increased comfort and confidence with talking, chewing, or smiling.
More information about the Center for Implant and Reconstructive Dentistry is available at dentalimplants.uchc.edu or nemsi.uchc.edu.
To make an appointment, call 860-679-7600.