Feature Story
As published in the UConn Advance, September 8, 2008.
Alum's Gift Promotes Global Health Studies at Health Center
By John Sponauer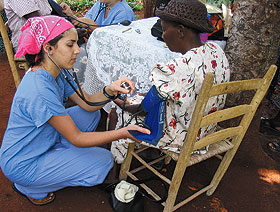 Burcin Uygungil '06 studied in Haiti while earning a medical degree and master's in public health at the School of Medicine. She is now a senior resident in pediatrics at Connecticut Children's Medical Center in Hartford.
Photo supplied by Judy Lewis
Students at the UConn Health Center who wish to carry on a long institutional tradition of studying global health issues may now have private financial support to do so, thanks to a scholarship funded by a School of Medicine alumnus.
Dr. Edward Hargus, M.D. '73, and his wife Maria have made a gift to provide assistance for students participating in global health education activity through the Center for International Community Health Studies in the School of Medicine.
To recognize the work done by Judy Lewis, director of the Global Health Education program and professor in the departments of community medicine and pediatrics, the fund is named the Maria and Edward P. Hargus M.D. Professor Judy Lewis Global Health Education Scholarship.
Since 1985, more than 300 medical, dental and public health students have taken part in global health studies, including language study, research, clinical care, and community health improvement projects.
The programs have allowed UConn students to collaborate with local community research programs in more than 60 countries to improve patient care and public health.
Hargus says the inspiration to fund a scholarship springs from his own education, which was supported with private giving.
"I come from a blue-collar family," he says. "I was one of the first to go to college and I couldn't have done it without the scholarships I received. I once received a note with my scholarship that told me which donor supported it. When you actually see that name, you realize that the money comes from someone else's generosity."
Lewis says Hargus's gift fits perfectly with the increasing realization of – and interest in – global health issues.
"A majority of incoming students express a desire to participate in global health issues, but many do not because of financial considerations," she says.
"The UConn Health Center has been fortunate to have some funding for summer research projects, but has been limited. The gift from Dr. and Mrs. Hargus is an important beginning, providing students with the means to participate in global health programs."
GHE seeks to respond to global health needs with an education that focuses on understanding and responding to the problems and needs of underserved communities worldwide; learning and implementing the principles of primary health care across cultures and nations; and encouraging medical, dental, master of public health, and Ph.D. students to enter fields of primary care and community health.
Hargus says that although he never traveled as a student, he sees a clear benefit to doing so.
"It's a big world. I think exposure to other cultures is very good for students, or anyone who wants to be involved in helping the poor," he says. "It's good for the school. And it's good for the country.
"Either by sending our students to other countries, or supporting people to come here and get their medical education, I think we're taking great steps to improve the lives of people everywhere," Hargus adds.
Lewis also believes that exposure to global health issues creates better physicians.
"Citizens from underserved communities have voiced their encouragement of global health immersions as part of preparing culturally skilled health care practitioners," she says. "There is no substitute for our students experiencing being 'the other.'"
For more information about the Center for International Community Health Studies and the Global Health Education program, go to http://www.commed.uchc.edu/cichs/education.htm.