Feature Story
Health Center Today, August 18, 2009
First of New Radiology Tools Up and Running
Enabled by Gift From Longtime UConn Supporters Carole and Ray Neag
By Chris DeFrancesco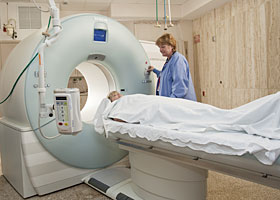 Sabine Bredefeld, lead CT/MR technologist, operates the Health Center's new computerized tomography (CT) scanner, which captures diagnostic images with previously unavailable speed, precision and patient comfort.
Photo by Lanny Nagler
Thanks to UConn's most generous donors, Health Center radiologists, cardiologists and oncologists are using a new computerized tomography (CT) scanner that enables unprecedented precision, speed and patient comfort.
"Ultimately it leads to real, significant improvements in patient care," says Dr. Douglas Fellows, chairman of the Department of Diagnostic Imaging and Therapeutics. "It means better care for today's patients in that it captures so much more in so much less time and can be performed with less radiation exposure to the patient. And it means better care for tomorrow's patients by way of both educational applications and as a research tool to advance the science of medicine."
The Health Center is using a $3.8 million gift from Torrington natives Carole and Ray Neag to invest in upgrades in its diagnostic, planning and treatment services designed to enhance patient care, especially in the areas of cardiology and cancer. The new CT scanner is the first installment in a series that also will include a high-dose radiation system and a CT simulator.
The Neags have donated more than $42 million to the university.
The new CT scanner uses what's known as "dual-source and dual-energy" technology, in which two sources of radiation are used to acquire information that is used to create a complex cross-sectional and three-dimensional image of a patient's internal anatomy.
"Scans that used to take 30 seconds or more now take five seconds or less, making it easier on the patient while at the same time yielding the most precise images available today," Fellows says. "The dual-energy component allows for the accurate subtraction of portions of the images that may obstruct the view of other structures, such as removing the images of the bony skull when imaging the blood vessels within the head."
The technological advances give physicians, particularly cardiologists and oncologists, sophisticated images not previously available.
For example, the new scanner is fast enough to capture an image between heartbeats, eliminating the need for the patient to take beta blockers to slow and stabilize his or her heart rate. The result is a sharp and detailed image, free of residual motion.
"Heart rate is no longer a factor, which is one more advantage," Fellows says. "We now are able to detect coronary disease earlier," says lead computerized tomography/magnetic resonance technologist Sabine Bredefeld. "This has had a tremendous impact on diagnosis of coronary artery disease."
It also benefits cancer patients by obtaining images with the least amount of radiation in the shortest amount of time without sacrificing quality.
"With dual-source definition, images are clearer, better and faster," Bredefeld says. "It gives us a higher resolution, and because it's a faster scanner, we can use less contrast in the patient."
A contrast agent, administered intravenously, helps distinguish between normal and abnormal tissue.
"The idea behind this is it uses two X-ray sources and two detectors at the same time, which doubles the speed while minimizing radiation exposure," Fellows says.