Feature Story
Health Center Today, August 26, 2009
Coast to Coast Cyclists Reschedule Last Leg of Fundraising Ride
New Date September 19; Med Students Seeking Riders to Join Them for Last 40 Miles
By Chris DeFrancesco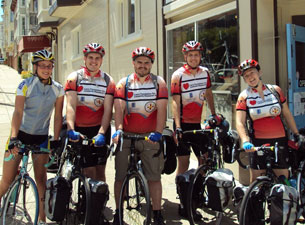 Day one, in San Francisco.
Photos courtesy of the Coast to Coast 2009 Blog
Katherine Farmer, Ross Bickford, Drew Cathers and Tony Faustini are back in Connecticut after spending the summer touring the country by bicycle to raise money for Lea's Foundation for Leukemia Research.
But the last leg of the 4,000-mile Coast to Coast for a Cure ride doesn't officially end until Saturday, September 19, when this year's riders pedal from the Health Center to the shoreline in Madison to dip their wheels in the Atlantic Ocean. The final ride had been scheduled for August 29, but the threat of Hurricane Danny forced its postponement.
The four medical students, now in their second year, are inviting classmates, faculty, friends, family, and anyone from the community to join them for the last 40 miles. They're meeting at 8:30 a.m. and plan to leave the academic entrance parking lot at 9.
The final destination is Malone's, 56 Academy Street, Madison, for free appetizers and a cash bar.
For more information call Carla Sgro, 860-604-3943.
The riders kept a blog, complete with photos, at http://coasttocoast2009.blogspot.com/.
And it's not too late to sponsor the 2009 Coast to Coast for a Cure. More information is available at http://www.leasfoundation.bbnow.org.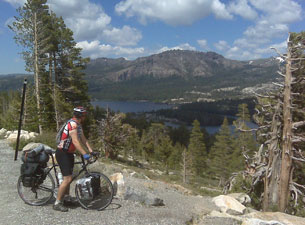 The view of the Sierras near Carson Pass, Nevada.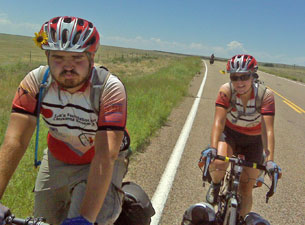 Continuing east in the Midwest.