Feature Story
Health Center Today, August 27, 2009
Soy Doesn't Impact Bone Density
By Carolyn Pennington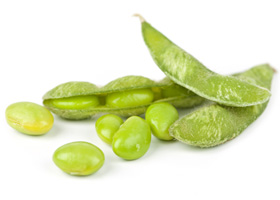 The risk of using hormone replacement therapy has prompted many postmenopausal women to try natural treatments like soy foods for chronic diseases such as osteoporosis. Soy contains several components that could potentially benefit skeletal health, such as isoflavones, which are naturally occurring plant compounds similar to estrogen. Scientists have been investigating whether the clinical effects of isoflavones may be similar to estrogen in the body, i.e., beneficial to bone and heart health without detrimental effects on breast and uterine tissue.
Researchers from the UConn Center on Aging, the Department of Allied Health Sciences, and the Department of Nutritional Sciences in Storrs found that although there are studies showing potential effects of soy isoflavones on bone mineral density (BMD) and/or markers of bone turnover in peri- or postmenopausal women, there are no known publications addressing this question in older postmenopausal women.
The UConn researchers conducted a randomized, double blind, placebo-controlled clinical trial in 131 healthy ambulatory women older than 60. A total of 97 women completed the trial. After one year, the investigators observed no measurable improvement in BMD or in markers of bone turnover between the women consuming soy protein or isoflavones alone or in combination.
The researchers concluded that because soy protein and isoflavones (either alone or together) did not affect bone mineral density, they should not be considered as effective interventions for preserving skeletal health in older women. The study is published in the American Journal of Clinical Nutrition (2009;90:234-42).