RSS
Dan Henderson on Reach MD's "Next Top Doc"

Listen to Dan Henderson compete for a $5,000 scholarship on the radio quiz show "Next Top Doc." (Use the promo code ntd2009.)

Feature Story
Health Center Today, August 21, 2009
Med Student Is 'Next Top Doc'
By Chris DeFrancesco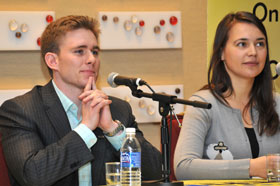 UConn medical student Dan Henderson competes with Texas Tech University's Nina Resetkova in the final round of the "Next Top Doc" radio quiz show. Henderson outlasted 15 other third- and fourth-year medical students to win a $5,000 scholarship at the American Medical Student Association's 2009 convention in Arlington, Va.
Photo courtesy of the
American Medical Student Association
Third-year medical student Dan Henderson, in Arlington, Va., for this year's annual convention of the American Medical Student Association, found himself competing for a $5,000 scholarship in the championship round of a new radio quiz show called "Next Top Doc."
"I figured it would be fun," Henderson says. "I guessed I'd be out in the first round, competing against fourth-years, but everyone would get a Starbucks card."
Henderson survived the first round, then the second and third rounds of a tournament that started with a field of 16 third- and fourth-year students representing 13 medical schools.
The contestant pool included classmates David Call and Nitin Roper, and Henderson almost didn't make it to the championship round because of Roper, who was his semifinal opponent.
"He was ahead going into the final round," Henderson says. "Nitin and I have faced off in 'Medical Jeopardy' before in school, and it's gotten pretty heated. I tell people, Nitin and I are colleagues, classmates and friends, but never any two at the same time. I knew if I lost, I'd hear about it back at UConn."
Henderson's final opponent was Nina Resetkova, an M.D. and MBA student from the Texas Tech University Health Sciences Center School of Medicine. Henderson recalled Resetkova's semifinal match dragging on for nearly an hour because both she and her opponent kept answering the questions correctly.
"I was up against this skilled competitor, and I was very intimidated," Henderson says. "The final round, unlike the others, was up on a stage, with an audience assembled and lots of friends from AMSA and UConn watching. Microphones and video cameras were everywhere, and it was all being recorded. It was much more pressure. Nina was getting these really hard questions, and she was getting them all right."
Henderson was able to keep it close, then came a question about a hypothetical patient experiencing acute onset of leg pain: What can't-miss diagnosis do you need to rule out?
Henderson, who has an interest in emergency medicine, correctly answered "blood clots" to take a late lead. It turned out to be the difference in the contest.
"This was a big win for me professionally," says Henderson, who has put medical school temporarily on hold to complete a one-year fellowship with AMSA. He's working full-time in Washington, D.C., in a position he describes as "a community organizer for medical students." Henderson will return for his fourth year at the UConn school of Medicine next May.
"I wanted to make the rounds in AMSA and introduce myself at the convention, and the contest was a great conversation piece," he says.
Henderson is the first champion of "Next Top Doc," which was created by AMSA and the satellite radio channel ReachMD, and introduced and taped at the 2009 AMSA convention in March. ReachMD broadcast each round of the contest from May through August, premiering Henderson's final-round victory Aug. 17.