Feature Story
Health Center Today, August 26, 2009
No Pain – No Gain: Weight Loss Study Rewards Those Who Lose
By Carolyn Pennington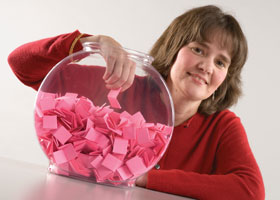 Nancy Petry draws for a prize from the fishbowl used in her contingency management technique.
Photo by Al Ferreira
When people hear the word "diet" they probably think deprivation - giving something up in order to lose weight. But what if in your battle against the bulge, you actually gained something instead and were rewarded with a prize if you shed those extra pounds?
Health Center researchers are conducting a study that does just that. It employs a technique called contingency management – an incentive-based intervention in which participants receive prizes if they are successful at reaching their weight-loss goals.
"In recent years, contingency management success rates have gained national attention with people trying to quit smoking, drinking or using drugs, so we decided to find out if it impacts a person's ability to lose weight," says Nancy Petry, the study's lead investigator and a nationally recognized leader in the field of behavioral interventions to treat addiction disorders.
Participants in the study will be asked to undergo two standard blood tests, wear a blood pressure monitor for 24 hours at the start and end of the study, and go to weekly meetings. All participants will be compensated for their time, up to $45. Some will have a chance to win up to $640 in prizes, ranging from small items such as water bottles and toiletries to gift certificates and even ipods and stereos, for reaching their weight loss goals.
The weight loss study is one of several being offered as part of the new Behavioral Cardiovascular Prevention Program in the Pat and Jim Calhoun Cardiology Center. The program will provide patients access to medically supervised services, many of which are free of charge because they're connected with research studies to help men and women reduce their risk of heart disease by adopting healthier lifestyles.
Other studies underway through the program are investigating ways to encourage exercise, and smoking cessation studies for both people with and without high blood pressure.
If you would like to learn more about the weight loss studies, contact Amy at 860-989-7105. For information on smoking cessation studies, contact Karen at 860-372-8418.