Feature Story
Health Center Today, December 11, 2009
Unique Art Exhibits on Display at LeWitt Gallery and Main Lobby
By Carolyn Pennington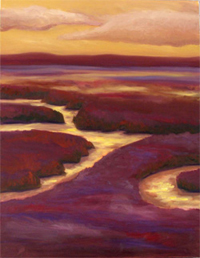 Painting by Jennifer Chase.
Paintings and Photographs Share the LeWitt Gallery
Exhibit: "Coastal Metaphors" – paintings by Jennifer Chase and "Portraits" – photographs by Kevin Mihaly
Where: Celeste LeWitt Gallery
When: Now through January 20, 2010, daily 8 a.m. to 9 p.m.
About the Artist:
Connecticut native Jennifer Chase has traveled throughout New England to reference coastal waterways and capture the innate balance of water, land, and sky in her paintings. Using dramatic color and expansive space to translate her concern for the environment, this exhibit features saltwater marshes and estuaries.
Chase has displayed her paintings in various group exhibitions, including at Gallery One in Dartmouth, Mass., the Chen Gallery in New Britain, and the Bristol Center for Arts and Culture, where she also had a solo exhibition. Her paintings have also been exhibited at Cosi Restaurant and Blue Acorn Studio in West Hartford.
Chase earned her bachelor's in fine arts and art education from the University of Massachusetts in Dartmouth and recently received her master's in art education from Central Connecticut State University in New Britain. Visit www.jenniferlchase.com to view her paintings.
In his studio, Mihaly Portrait Design in Avon, Kevin Mihaly creates individualized portraits that reveal the subject's unique spirit. Prior to opening his studio, Mihaly was located in Tokyo where his work was featured in Asian and European magazines and displayed in Japanese homes and galleries.
Early in his career, Mihaly worked for ESPN for 20 years. He was honored with three Emmy awards for his ability to tell stories by using creative visual elements along with meaningful narrative.
Mihaly earned his bachelor's degree from Syracuse University in New York and London, and he received extensive photographic training at the Hallmark Institute of Photography in Massachusetts. Visit www.mihalyportraitdesign.com for more information.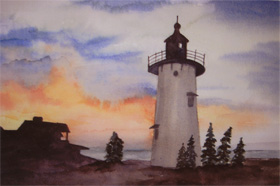 Painting by Judith M. Brown.
Sky and Light Inspire Exhibit
Exhibit: "Here and There" paintings by Judith M. Brown
Where: Main and Mezzanine lobbies
When: Now through January 13, daily 8 a.m. to 9 p.m.
About the Artist:
Avon resident Judith Brown states she is inspired by the sky and light, and the blending of colors to create drama. Her subject matter essentially consists of her two favorite locations – Martha's Vineyard and Italy. During her travels to Italy, she takes many photographs and uses them for inspiration in her work. Brown also spends a good deal of time on Martha's Vineyard and enjoys painting everything from the whimsical gingerbread houses of Oaks Bluff to dramatic beach scenes.
She has exhibited at the New Britain Museum of American Art, the All Island Art Show in Oaks Bluff, Martha's Vineyard, and at Hartford restaurant Bin 228. She also participated in the UConn Health Center's annual Holiday Bazaar and its Spring Market, and has published boxed note cards.
Currently, Brown is a student of Brian Colbath at the Farmington Valley Arts Center.
Editor's Note: Download high quality image of artwork at: http://auxiliary.uchc.edu/art/exhibit.html.