Feature Story
Health Center Today, December 15, 2009
Grant Funds Research on Cancer Prevention in Dental Setting
By Noreen Kirk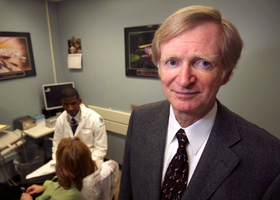 Thomas Babor, professor and chairman of the Health Centerís Department of Community Medicine and Health Care.
Photo by Michael Fiedler
Can a visit to the dentist help reduce your cancer risk? Thatís one of the questions Health Center researchers will be exploring thanks to a $1 million Challenge Grant from the National Institutes of Healthís National Institute of Dental and Craniofacial Research.
The prestigious grant was awarded to Thomas Babor, professor and chairman of the Health Centerís Department of Community Medicine and Health Care. His was one of only 200 projects selected for funding out of roughly 20,000 applications. Baborís grant supports a two-year research project exploring whether screening and brief interventions conducted in dental practice settings can change patientsí substance use behaviors so as to reduce their risk of oral cancers and a variety of other health conditions.
"Smoking, alcohol use and illicit drug use are major risk factors for oral pathologies," says Babor, "and the combination of two or three dramatically increases the risk. Our goal is to collect preliminary data to find out whether people will cut back on using these substances if dentists offer nicotine replacement therapy, counsel patients about their risks and, if necessary, refer the patient to more formal, intensive treatment."
This type of screening and brief intervention has been used in emergency departments and primary care practices for about 10 years, and evidence shows that the approach can be very effective.
"Dental clinics could definitely be the next step," Babor says, "but there has been virtually no research on this until now."
UConnís Dental Clinic is Research Site
Baborís study will be conducted in the UConn Health Centerís general dentistry clinic in collaboration with Bonnie McRee, Janice Vendetti, and Dr. Steven Lepowsky. The clinic is an ideal site for the study, since patients come from all over the state, represent a range of ages and socioeconomic levels and have a variety of oral health conditions.
Thousands of patients will be screened by trained research staff using the World Health Organizationís new Alcohol, Smoking and Substance Involvement Screening Test (ASSIST). The randomized study will include 175 patients who screen positive for smoking and one other substance. A control group will receive no immediate intervention, but will be asked to return in three months for a full intervention. A second group will receive intervention for tobacco use only. The third group will receive interventions for both tobacco and the second substance.
"Weíre interested in learning if tobacco intervention is effective by itselfówhether, when people stop smoking, theyíll cut back on other substances as well, or if they need more intensive intervention for both substances at once," Babor explains.
The intervention, which takes only five to 10 minutes, is based on a technique called "motivational interviewing." After scoring the ASSIST questionnaire, the interventionist will show the patient what his or her risk level is and begin a non-confrontational conversation to raise awareness of the risks, motivate the patient to change and offer options. The interventionist may offer the patient nicotine replacement therapy, self-help information or a referral to more intensive treatment.
"Most patients respond to friendly advice from a medical practitioner when itís in the context of advising them of the need to engage in healthier behaviors," Babor says.
The team will evaluate all patients after three months to see if theyíve reduced risky behaviors.
Benefits of Research
Patients enrolled in the study will benefit by having the opportunity to receive counseling for risky behaviors. The study benefits the University of Connecticut Health Center by furthering its mission of generating new knowledge about health issues. But the benefits extend even further.
"By conducting clinical trials like this, with behavioral interventions, we are engaging in scientific research that will improve the health of people in Connecticut and across the country," says Babor.
He notes that the federal government has used some of the health centerís earlier research on brief interventions to launch a national demonstration program on Screening, Brief Intervention and Referral to Treatment (SBIRT) now under way in 15 states.
Next Steps
If the results of the study are positive, researchers will explore ways to incorporate the approach into the training of residents in UConnís School of Dental Medicine. Babor hopes to go on to conduct a larger randomized study that would include more settings and more providers. But for the moment, heís excited about the work at hand.
"Itís always great," Babor says, "to learn how to help patients deal with their health problems and to produce scientific information that can enhance clinical practice and improve public health."