Feature Story
Health Center Today, December 3, 2009
Dental Specialists Studying Bone Health and Dental Implants
By Chris DeFrancesco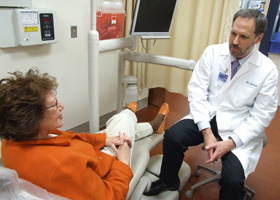 Rita Miller (left) has dental implants in place of two missing teeth after participating in a clinical study led by Dr. Martin Freilich (right) at the Center for Implant and Reconstructive Dentistry.
People with healthy bone density can enjoy the long-term, low-maintenance benefit of replacing missing teeth with dental implants.
But dental implant therapy isn't always an option for those with osteoporosis, who have been missing teeth for a while, and who have experienced bone shrinkage after tooth loss. Osteoporosis is not uncommon among those who are candidates for dental implants – usually an older population that historically would need bridgework or dentures.
At the Center for Implant and Reconstructive Dentistry, Dr. Martin Freilich is leading a dental implant and bone health study, focusing on women who've been diagnosed with osteoporosis or osteopenia and who need at least one dental implant.
"We're studying patients with various types of bone health, and we'd like to see if there are differences in how the bone heals after bone widening procedures and dental implant placement in people with different types of systemic bone health," Freilich says.
For Rita Miller of Bloomfield, the clinical study presented a perfect opportunity. An abscess in her lower jaw forced the removal of a bridge that had replaced two teeth.
"Aesthetically, I was quite self-conscious about my smile," Miler says. "I was also hindered from chewing on both sides of my mouth. Missing two teeth would eventually cause the rest of my bottom teeth to shift and that was of great concern to me."
While waiting to be seen by Dr. Lawrence Raisz in the UConn Center for Osteoporosis, Miller noticed a poster for the dental implant and bone health study. The timing was right.
She joined the study and received care from nationally recognized clinicians on the UConn School of Dental Medicine faculty, such as Freilich, Dr. Thomas Taylor and Dr. David Shafer. She came out of it with two implants supporting caps where the bridge used to be.
"I marvel at the fact that as soon as the implants were in place, I began to chew on both sides of my mouth and it felt perfectly normal," Miller says. "There was absolutely no adjustment period; the implants were faultless."
Miller's is just one success story from the Center for Implant and Reconstructive Dentistry, now in its second year in its new location on the Health Center's main floor, which includes eight modern treatment rooms.
Like all the Center's patients, study participants receive state-of-the-art care using standard FDA-approved materials. UConn's dental specialists replace the root portion of the tooth with a metallic screw that will serve to anchor the replacement tooth to the jawbone.
"I am so impressed with the attention to detail and professional care that I received at the dental implant center," Miller says.