Feature Story
Health Center Today, December 29, 2009
Remembering Charles Huntington III
By Cato T. Laurencin, M.D., Ph.D.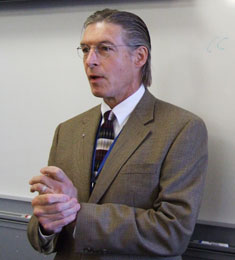 Charles G. Huntington III, P.A., M.P.H.
It is with profound sadness that we share the news of the unexpected passing of Charles G. Huntington III, P.A., M.P.H., the Health Centerís Associate Dean for Community and Continuing Education, an Associate Professor in the Department of Community Medicine and Health Care, and one of the leading forces behind the development of the Connecticut Area Health Education Center (AHEC).
Charles Huntington was a dynamic and thoughtful administrator, educator, healthcare provider, mentor and friend to many. His loss will be deeply felt throughout the Health Center and our thoughts and condolences are with his wife and family during this difficult time.
His funeral was Saturday, January 2, at the Unitarian Society of Hartford.
Before becoming the Associate Dean for Community and Continuing Education last year, Charles Huntington served as associate director of the Connecticut AHEC Program. He also chaired the Health Centerís Course and Curriculum Evaluation Committee and served on a number of committees and task forces for the UConn Graduate Program in Public Health and the UConn Center for Public Health and Health Policy. In 2006, he was awarded a School of Medicine Clinical Medicine Course Teaching Award.
A graduate of Williams College, he trained to be a physician assistant at Bowman Gray School of Medicine (known today as Wake Forest University School of Medicine) in Winston-Salem, N.C. In addition, he earned a Masterís in Public Health at George Washington University then studied for two years as a Pew Health Policy Fellow at the University of Michigan School of Public Health.