RSS
Watch the Video
Feature Story
Health Center Today, December 7, 2009
Donít Be Fooled by Fancy Devices Ė Oral Exams Still the Best Option
By Carolyn Pennington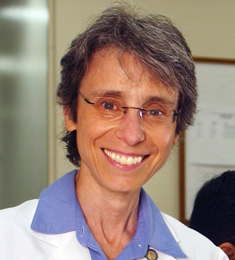 Dr. Ellen Eisenberg, director of the dental schoolís oral pathology program.
You may have noticed recently some new devices and techniques being used in your dentistís office and being touted as "early detection aids" for oral cancer. These devices are supposed to help clinicians detect early lesions but Dr. Ellen Eisenberg, director of the dental schoolís oral pathology program, warns not to be fooled by fancy new equipment. "They offer very nonspecific information about the nature of lesions they might disclose, and a good exam would disclose such findings anyway." Eisenberg adds that a well-performed, unaided clinical exam by a trained provider is really the best means to detecting oral precancerous and cancerous lesions.
Oral exams should be performed at minimum once a year, irrespective of whether a patient has teeth or is edentulous (toothless). This assures early detection. Also, if an individual has a concern about a lesion, painful or not, that has arisen in the mouth and that has persisted for more than two weeks, it must be evaluated.
The oral exam is very quick and painless, and it must be done in a setting where there is appropriate lighting and the examiner has the ability to look at all surfaces in the mouth without impediments. Eisenberg says, "All of the fancy instruments with lights, and Ďbells and whistlesí will not help if the exam is done by a clinician who doesnít know the essential features that distinguish suspicious lesions from non suspicious findings."
Various factors can result in abnormalities in the mouth. They include common inflammatory irritants; microbial infections; autoimmune diseases; skin diseases; and oral cancer, also known as squamous cell carcinoma.
The Health Centerís Oral Pathology Biopsy Service is the only one in the state and provides an invaluable resource to practitioners and patients throughout the Northeast. Each year, the Biopsy Service analyzes approximately 4,500 specimens. "Abnormalities of the oral cavity can be extremely difficult to diagnose, even for experienced clinicians," says Eisenberg. Itís not unusual for Eisenberg and her faculty associate, Dr. Easwar Natarajan, to see patients who have had an oral condition for some time but have yet to receive a correct diagnosis and, therefore, appropriate treatment.
"Sometimes things that affect the mouth, if allowed to run their course, will also affect other parts of the body adversely," notes Eisenberg. "We make an important contribution when we are able to diagnose things early and prevent complications."