Feature Story
Health Center Today, December 8, 2009
Androgen Deprivation Therapy for Prostate Cancer – Does the Benefit Justify the Risk?
By Carolyn Pennington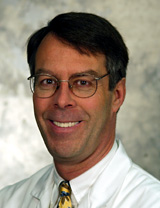 Men treated for prostate cancer with androgen deprivation therapy (ADT) have an increased risk of diabetes and cardiovascular diseases, according to a new study published online in the Journal of the National Cancer Institute.
The four-year observational study involved almost 38,000 men of all ages who had been diagnosed with local or regional prostate cancer. Almost 25 percent of the men treated with ADT developed diabetes and 20 percent developed coronary heart disease. These rates are considerably higher than those found among men who did not receive ADT.
In an accompanying editorial titled Does the Benefit Justify the Risk? (PDF), the Health Center's Dr. Peter Albertsen says this study adds to the growing body of literature on androgen deprivation therapy. The researchers gave a glimpse into the extent of therapy side effects for contemporary patients, including men younger than 55 and older than 75 years, according to Albertsen.
"With the growing number of men wrestling with rising PSA (prostate-specific antigen) values after treatment, we should organize appropriate trials and reflect carefully about the anticipated benefits and harm before initiating ADT treatment," Albertsen writes. "Many older men especially those with low-grade disease, may not live long enough to benefit, and we may hasten their demise from a competing medical problem."