Feature Story
As published in the UConn Advance, January 26, 2009.
Health Center Program Uses Holistic Approach to Ease Pain
By Maureen McGuire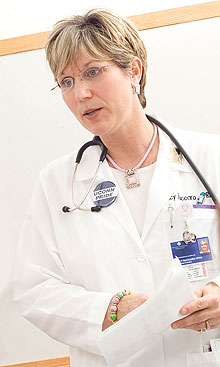 Nancy Baccaro, an advanced practice registered nurse, heads the Pain and Palliative Care Program at John Dempsey Hospital.
Photo supplied by the UConn Health Center
A new initiative is underway at the John Dempsey Hospital to meet the physical, emotional, psychological, and spiritual needs of patients who are seriously ill or coping with persistent pain.
The Pain and Palliative Care Program is a consultation service led by Nancy Baccaro, a nurse practitioner who also sees patients in the Carole and Ray Neag Comprehensive Cancer Center, working with a team of experts from areas including nursing, case management, social work, and pastoral care.
The program was introduced in stages throughout the hospital. It began last fall on the fourth, sixth, and seventh floors, and within months, evolved into a hospital-wide service.
Here's how it works. Healthcare providers identify patients who would benefit from the service. Patients are then assessed by Baccaro, who brings in other members of the team as needed.
"Patients included are usually those experiencing difficulty with pain and symptom control due to an advancing illness," Baccaro says.
"We recognize that there are many factors that contribute to pain and suffering, and not all are physical. We provide a holistic approach to help patients address a wide range of issues."
She says the team typically meets by the bedside with patients and families to discuss goals from all perspectives.
"This helps to facilitate comprehensive communication with the healthcare team. At times, issues such as advance directives and the potential transition of the patient to hospice care are considered."
Baccaro describes palliative care as a process: "This program is about identifying concerns and addressing them honestly, directly, and with the hope for the best possible outcome. We help patients and families set realistic goals and remember that there is always hope for a good day and regained control. Fear of the unknown can be the worst kind of pain or suffering."
According to the Center to Advance Palliative Care, more than half of U.S. hospitals now offer palliative care programs, thanks to a rapid increase in such programs over the past several years.
In 2001, there were 600 palliative care programs in hospitals around the nation. Now there are more than 2,500.
In addition, national accreditation organizations such as the American College of Surgeons and the Joint Commission, are taking a closer look at how hospitals provide palliative care services.
Baccaro says it is especially important that university hospitals, like the Health Center, introduce medical students to the individualized approach of palliative care.
"For our medical students and nursing students who are training at the Health Center, this service illustrates how health care providers can address issues related to pain and other symptoms that seriously and significantly impact a patient's quality of life."
She says she is often asked to describe this new service.
"Sometimes it's as easy as asking patients and their families, 'What can I do to give you a better day?' and then just listening."