Feature Story
As published in the UConn Advance, June 8, 2009.
Health Center Researcher Receives Grant to Study Parasites
By Carolyn Pennington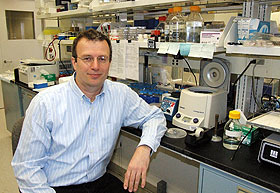 Arthur Günzl, associate professor of genetics and developmental biology, has received a grant from the Gates Foundation.
Photo by Carolyn Pennington
Arthur Günzl, an associate professor in the Department of Genetics and Developmental Biology, has been awarded a grant by the Bill and Melinda Gates Foundation. He is the first Health Center researcher to receive a Gates Foundation grant.
Günzl is one of 81 researchers around the world to receive a grant of $100,000 each through the foundation's Grand Challenges Explorations initiative, which aims to develop a pipeline of creative ideas that could change the face of global heath.
The projects focus on innovative approaches to prevent and treat infectious diseases, such as HIV, malaria, tuberculosis, pneumonia, and diarrheal diseases.
Günzl's research focuses on Trypanosoma brucei, the parasite carried by the tsetse fly in Sub-Saharan Africa that causes sleeping sickness. There are an estimated 500,000 cases each year, and in some African provinces, half the population is infected.
Untreated, the disease is invariably fatal. However, existing drugs are highly toxic, expensive, difficult to administer, and/or not effective against all subspecies of the parasite.
Moreover, resistance to existing drugs is on the rise and vaccine development not in sight. New strategies to combat the parasite are urgently needed.
With the Gates Foundation grant, Günzl will be able to concentrate on a unique trait of T. brucei. The parasite lives freely in the human bloodstream and must continuously swim forward to evade immune responses. Günzl will attempt to develop serum-stable adhesive RNA molecules that immobilize trypanosomes on human endothelial cells.
"It's just an idea, I have no preliminary data," says Günzl.
"From my previous research experience, I can see where it may work but I can also think of reasons why it might not work. But it is definitely worth trying."
Günzl's proposal to the Gates Foundation was only two pages long, which differs greatly from the lengthy and data-proven proposals researchers need to submit to the National Institutes of Health in order to receive grant money.
"It's a nice thing for a scientist," he says.
"This grant is allowing me to go and do something completely new and unconventional, and that's what can lead to big discoveries."
If Günzl's hunch proves correct, it could lead to a short-cut for a new treatment.
The other funded researchers will explore a wide range of new ideas, including giving mosquitoes a "head cold" to prevent them from detecting and biting humans; developing a tomato to deliver antiviral drugs; and using a laser to enhance the effect of vaccines. Projects that show promise are eligible for additional funding of $1 million or more.
"Investments in global health research are already paying big dividends," says Dr. Tachi Yamada, president of the Gates Foundation's Global Health Program.
"An incredible number of new vaccines, drugs, and other tools are becoming available to improve health in developing countries. Grand Challenges Explorations is our way to help inspire the bold ideas that could one day help transform global health."
Applicants were selected from more than 3,000 proposals. All levels of scientists are represented – from veteran researchers to young post-graduate investigators – as are a range of disciplines, such as neurobiology, immunology, and polymer science.
The grantees are based at universities, research institutes, nonprofit organizations, and private companies in Africa, Asia, Australia, Europe, Latin America, and North America.
Learn more about the complete list of Grand Challenges Explorations funded projects on line.