Feature Story
As published in the UConn Advance, March 16, 2009.
Study Examines Impact of Exercise on Older Women Who Smoke
By Kristina Goodnough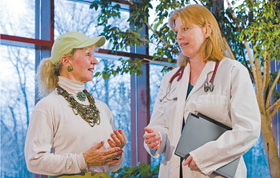 Dr. Cheryl Oncken, right, associate professor of medicine, speaks with Mary Carroll Root, an instructor with Powerful Aging, an exercise program developed at the Health Center.
Photo by Lanny Nagler
Dr. Cheryl Oncken, associate professor of medicine, has received a five-year, $4 million federal grant to study whether exercise can help older women quit smoking and improve their overall health.
"Our goal is to study whether an exercise program can help postmenopausal women quit smoking and abstain from cigarettes," says Oncken, a nationally recognized expert on smoking cessation, who received the grant from the National Institute on Drug Abuse.
"Most smoking research focuses on healthy women. Our study is looking at post-menopausal women who have a greater risk of lower bone density, depression, and weight gain, and other health problems than younger women," says Oncken.
About 30 percent of female smokers are postmenopausal, and the proportion is expected to grow as the population ages. Smokers generally know about the harmful effects of smoking and want to stop, but most people have a hard time quitting.
"It takes an average of three to five attempts to finally kick the habit," says Oncken, who has studied the use of various medications and behavioral therapies designed to help people abstain from smoking.
"Our aim is to find the most effective treatment or combination of treatments to help people achieve their goal."
The study, which is being conducted in collaboration with the University of Minnesota, will recruit about 300 postmenopausal women. All the women will receive smoking cessation treatment consisting of behavioral counseling and the medication varenicline; they will then be randomly assigned to either a supervised exercise program or a supervised relaxation control program.
"We hypothesize that women in the exercise program will have greater abstinence rates at the end of treatment and at the end of a year than women in the relaxation program," Oncken says.
The researchers also hypothesize that the ameliorative effects of exercise on smoking cessation and depression will improve abstinence rates among women with a history of depression equal to those with no history of depression, and that exercise will improve smoking cessation by reducing nicotine craving and negative affect and by increasing self-efficacy or confidence.
The researchers will use the exercise program called Powerful Aging, developed by the Health Center's Center on Aging.
The program grew out of more than a decade of research on the beneficial effects of exercise in improving gait and balance in older adults.
It is specifically designed for people who are 50 years of age and older, and uses simple repetitive movements that foster strength, flexibility, and stamina.
"It seems that research grants today are moving toward supporting programs that can be used in the community," says Oncken.
"Our research study is looking at the benefits of an exercise program that is already out in the community and has already demonstrated beneficial results for its participants."