Feature Story
As published in the UConn Advance, March 23, 2009.
Exploring the Link Between Gum Infections and Kidney Disease
By Kristina Goodnough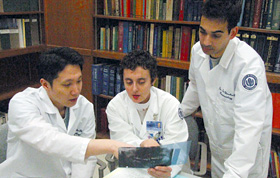 Research team from left, Drs. Dongha Oh, Effie Ioannidou, and Eric Choudhury.
Photo by Carolyn Pennington
For patients undergoing kidney dialysis, gum disease is more than an inconvenience. It may cause not only local, oral inflammatory responses but also systemic inflammatory responses that could put patients at higher risk for complications such as heart problems, according to research by Dr. Effie Ioannidou, assistant professor of periodontology at the UConn School of Dental Medicine.
Ioannidou is part of a team of researchers led by Dr. Anna Dongari-Bagtzoglou, associate professor and head of the division of peridontology, who were the first to report on the relationship between gum disease and systemic inflammation that could affect the risk of organ rejection in kidney and heart transplant recipients.
"Researchers have identified inflammation as a potential risk for organ transplant rejection," says Ioannidou.
Dongari-Bagtzoglou's research team found that interleukin-6, a pro-inflammatory cytokine that is secreted in response to infections, was present in elevated amounts in transplant patients with severe chronic gum disease compared to patients with no gum disease.
"It suggests that periodontal infections may increase systemic inflammation in these patients, which may place them at a greater risk for transplant rejection," the researchers concluded in a study published in the Journal of Periodontology in 2006.
Ioannidou noticed that the transplant recipients who had been on dialysis before the kidney transplant seemed to have more gum disease than transplant recipients who had never had dialysis.
With a grant from the General Clinical Research Center, Ioannidou began a pilot study to investigate the issue more closely. Since then, Ioannidou has received several awards to support her research on the association between chronic periodontitis and chronic kidney disease.

Most recently Ioannidou received the Bud and Linda Tarrson Fellowship from the American Academy of Periodontology Foundation. The award is a $36,000, three-year fellowship to encourage periodontal clinicians to pursue an academic career.
With the latest grant, Ioannidou hopes to look at a treatment for periodontal disease and see whether it improves the health of those with chronic kidney disease.
"After we provide the treatment, we'll examine study participants for markers for inflammation and nutrition to see if their health or well being improves," she says. The multidisciplinary research project brings together periodontology, nephrology, and behavioral sciences.
Ioannidou teaches and mentors both pre- and post-doctoral students: Drs. Eric Choudhury and Dongha Oh, residents in periodontics, are working on the project as part of their Master's of Dental Science training, and Hisham Rifaey, a fourth-year dental student, is working with Ioannidou on a systematic review and meta-analysis of the prevalence of periodontal disease in chronic kidney disease patients.
Chronic kidney disease is a growing health problem in the U.S., according to the Centers for Disease Control, affecting nearly 17 percent of adults over the age of 20.