Feature Story
Health Center Today, November 24, 2009
Auxiliary Reports Another Happy Holiday Bazaar
By Chris DeFrancesco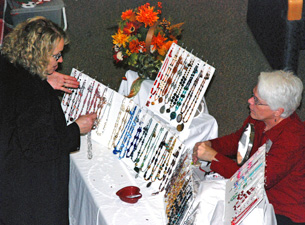 Photo by Janine Gelineau
You can tell the holiday season is near when the Health Centerís Main Lobby, Keller Lobby, and mezzanine become home to a one-day shopping extravaganza.
On November 20, the UConn Health Center Auxiliaryís annual Holiday Bazaar raised nearly $5,500, including more than $3,300 in proceeds from the traditional gift basket raffle. This yearís drawing offered 16 baskets to choose from, each created, assembled and donated by a Health Center department.
"Thatís the most weíve ever had," says the Auxiliaryís Phyllis Hills. "We had a lot of new departments, those who hadnít done a basket before. Their support is just incredible."
The 2009 Holiday Bazaar featured 28 vendors, and new this year, the Auxiliary offered tongue depressors for the American Mural Project.
"We accepted donations for 33 tongue depressors, and people were interested in learning more about the American Mural Project," says Auxiliary Facilitator Irene Engel. "And at least 10 people picked up application forms to join the Auxiliary. It was a great day."
More information about the UConn Health Center Auxiliary is available at http://auxiliary.uchc.edu.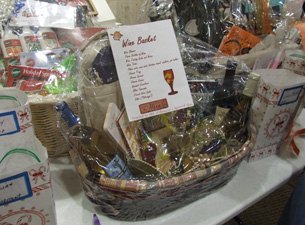 Photo by Sheryl Rosen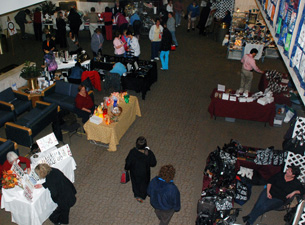 Photo by Janine Gelineau