Feature Story
Health Center Today, November 9, 2009
Local Organization Awards Grants to Breast Cancer Researchers
By Chris Kaminski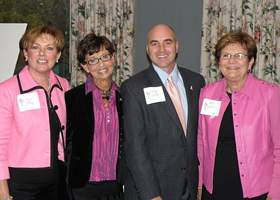 Grant recipient, Kevin Claffey, Ph.D., with members of the CT Breast Health Initiative. (Left to right: Joyce Bray, Marsha Goldstein, Claffey, and Judy Donofrio).
The CT Breast Health Initiative, Inc. recently awarded four grants to breast cancer researchers from the UConn Health Center at its annual Grant Awards/Sponsor Thank You/Volunteer Recognition event.
Health Center researchers and their projects receiving grants from the CT BHI include:
Last year, the CT BHI awarded the first CT BHI Professorship for Clinical/Translational Research that is held by Lori Wilson, M.D., F.A.C.S., surgical director of UConn's Clinical and Translational Breast Program, part of the Neag Comprehensive Cancer Center.
"The Clinical and Translational Breast Program is fortunate to have the strong support of the CT BHI. The support promotes early-stage pilot studies with the potential for having a high impact on breast cancer diagnosis, treatment and patient support," says Dr. Kevin Claffey, grant recipient. The pilot studies allow the projects to move forward and be competitive on the national level through the National Institutes of Health and the National Cancer Institute; American Cancer Society and the Congressionally Directed Medical Research Program through the Department of Defense, adds Claffey.
The CT BHI has awarded more than $1 million in grants to Connecticut researchers in the fight against breast cancer.