Feature Story
Health Center Today, November 25, 2009
Helping Those in Need of Shoes, Foot Care
By Chris DeFrancesco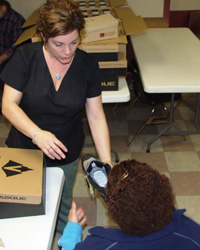 Lori Engengro helps fit a pair of women's shoes.
Volunteers from the New England Musculoskeletal Institute spent an evening recently in New Britain providing free foot care and footwear at the Friendship Service Center and the Salvation Army.
Donating their time were Dr. Michael Aronow, an orthopaedic foot surgeon, medical assistant Lori Engengro, cast technician Kathleen York, and fourth-year orthopaedics resident Fernando Checo.
It was one of more than 40 such efforts throughout the country this week, sponsored by Our Hearts to Your Soles, a nonprofit with a mission of providing medical care and shoes to people in need worldwide. Red Wing Shoes donated several thousand pairs of shoes for this cause, and Soles4Souls, a nonprofit that facilitates the donation of footwear, distributed them.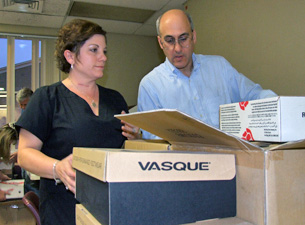 Lori Engengro and Dr. Michael Aronow sort through boxes of shoes.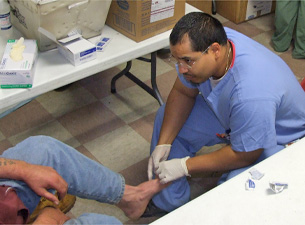 Dr. Fernando Checo performs a foot exam.