Feature Story
Health Center Today, November 9, 2009
Parkinson's Patient Can Rest Easy After Deep Brain Stimulation
By Susan Wisbey-Smith and Chris DeFrancesco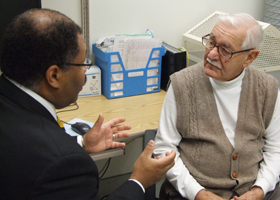 Joseph Forte (right) says deep brain stimulation, a high-tech surgical intervention performed by Dr. Patrick Senatus (left), has gone a long way in helping him manage his Parkinsonís disease.
Deep brain stimulation is fast becoming the treatment of choice for patients with intractable Parkinsonís disease, dystonia, and essential tremor.
"Deep brain stimulation, or DBS, is an excellent treatment option for patients who no longer adequately respond to first-line measures such as medications and physical therapy, or when the side effects of those treatments become too severe," says Dr. Patrick Senatus of the New England Musculoskeletal Instituteís Comprehensive Spine Center.
Joseph Forte, of Farmington, is one of those patients. Ten years ago, at age 68, he learned the tremors he was having were due to Parkinsonís disease.
"The tremors were very controllable for years, but finally I reached the point where I couldnít sleep, because the tremors go 24 hours a day, and if you canít stop them for a period of 10 minutes at bedtime, youíll never get to sleep," Forte says.
The trouble sleeping took its toll on Forte Ė and his wife. "It reached the point of, 'Do something, Joe, or find a place to live by yourself!'"
So he decided to look into DBS.
DBS works by implanting electrodes into selected brain nuclei, which are then connected to implantable pulse generators. The system delivers electrical impulses that can modulate the function of the targeted region. The implanted pulse generators, or "brain pacemakers," are surgically implanted in the chest wall of the patient. Physicians are subsequently able to set parameters magnetically through a device held outside the body.
Forte went to Senatus and had the procedure done in May of 2009.
"The first full night of sleep, it was like I was reborn. I woke up the next morning and I said to my wife, 'Did I sleep?' and she said, 'Yes, and so did I!' Very big success."
Forteís disease will continue to progress, but thatís where the implanted pulse generators come in. Heís been back for several "tuneups," as he calls them.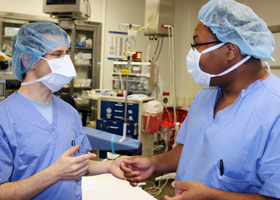 Drs. Adam Simmons (left) and Patrick Senatus prepare for a deep brain stimulation case in the operating room.
"We are able to adjust the amplitude of the pulses as well as their frequency and duration," Senatus says. "We fine-tune the settings until we establish the best combination for each patient. Ultimately, we are able to alleviate tremors in a large percentage of patients and significantly diminish symptoms for others."
The UConn Health Center is the only place in the Hartford area that offers DBS, which recently has been approved by the FDA for humanitarian device exemption in the treatment of obsessive compulsive disorder, and is being evaluated for the treatment of other conditions such as major depressive disorder, Touretteís syndrome, and chronic pain. Senatus, an assistant professor and director of functional and restorative neurosurgery, is fellowship trained in DBS and neuromodulation.
"Identifying which patients are good candidates for DBS is the important first step," says Dr. Adam Simmons, a neurologist who is part of the team that manages the pre-procedure evaluation, including an MRI and neuropsychological evaluation.
"If the MRI shows a lesion in the area of the brain where the electrodes need to be implanted, the patient may not be a good candidate for DBS," Senatus says. "Similarly, some patients with neurodegenerative conditions such as severe dementia, that can be exacerbated by DBS, may not be good candidates."
Despite these limitations, the majority of patients can be successfully treated.
"DBS is not a simple thing, but the results are so remarkable that people should really know about it," Forte says.